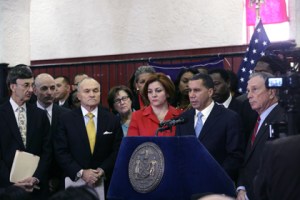 Maybe it's not that Harold Ford Jr. is a carpetbagger, maybe he's too New York.
Also, more scrutiny over Ford's work at Merrill Lynch.
David Paterson doesn't oppose Ford's candidacy.
Maggie Haberman hears Chuck Schumer and Kirsten Gilibrand's staff talking about (what else?!) Ford.
Gillibrand supports Martha Coakley and wants supporters "to send another woman to the Senate!"
Gillibrand talks to Manhattan district leaders tomorrow.
Hillary Rosen defends Ford's evolution on gay issues; says Gillibrand converted too. "It seems divisive and pointless to attack people for their past positions."
Sirota calls Ford's op-ed a joke. On us.
Peter Feld says there's room on the left of Gillibrand and Ford.
Wayne Barrett wants to see a fight in the primary because there may not be one in the general election.
James Knickman doesn't like Paterson's proposed "steep cuts" to health care.
Tom Robbins: "[T]he WFP's biggest flaws are hardly indictable offenses."
Ironic: "A bill that's supposed to bring greater disclosure and openness to Albany should, at the very least, be subject to public hearings."
Paterson's communication director calls the ethics legislation "election year window dressing." An aide said the governor won't sign the bill. A source says Ruben Diaz Sr. won't vote for it [no link].
Proposed changes are "monumental," said Eric Schneiderman.
"This is just a downpayment on other things to come," said John Sampson.
A tough week for Gary Ackerman.
Hakim: Evidence collected by Mr. Cuomo's office, the filing says, suggests that money paid by Soundview to the management company was also used to "pay Mr. Espada's campaign expenses including printing, campaign office rent and personnel costs."
Marty Markowitz used lights and sirens to get a press conference about Haitian relief…and passed by a van of reporters.
And pictured above are city and state leaders during a press conference about disaster relief efforts in Haiti.