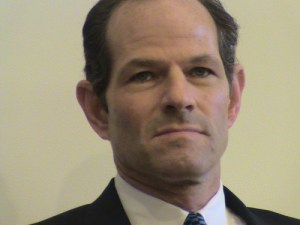 Eliot Spitzer and the socks thing: Not true, he says.
Ruben Diaz Jr. tries correcting a paranoid rap DJ about the city's gun buyback program.
More numbers from Michael Bloomberg's budget.
Libraries are a big loser in the budget, says City Room.
Kolb isn't running.
Chris Cox is.
Russia Today picks up on the Bloomberg 2012 chatter.
Redstate asks: "What's the matter with the New York State GOP?"
FireDogLake says Bloomberg got "cold feet" over hosting the terrorism trial.
Chuck Schumer met with Lou Dobbs.
Hillary Clinton announced a "Peace and Reintegration Fund" for Afghanistan.
A happy Clinton visited Montreal.
More cops guard the city comptroller and public advocate than previously.
John Liu will audit schools.
Another fight on Staten Island to prevent budget cuts.
Will Yetta Kurland challenge Tom Duane? John Winkleman confronts her with an undercover video.
Christine Quinn touts a victory for tenants.
Mike McMahon said Obama's message about not heading "for the hills" on health care "didn't resonate with me." Also, McMahon called the SCOTUS campaign ruling "ridiculously overbroad."