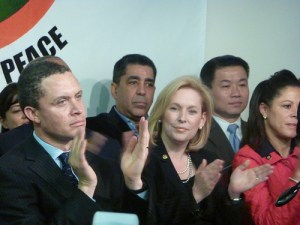 Ford called Gillibrand 'Weak.' Later, she declined to respond.
Ford: ' I love the smell of New York.'
If Coakley gets within five points, Ford runs, according to Maggie Haberman.
Liz Benjamin says what we're all thinking.
At Sharpton's invitation, Ford went to Mount Vernon.
Andy Barr says Gillibrand's poll numbers are good news.
Levy hugs the GOP.
Murphy waves a huge bag of money.
David Paterson was in the house.
So was his campaign manager.
Cuomo enchanted the press, and talked around the issue of a possible gubernatorial run.
Anthony Weiner and Charles Barron shared an armrest.
Efrain Gonzalez got dressed up for the occasion.
Jonathan Tasini rakes in the money tomorrow.
Pataki, who is out of view, is popular again.
Young Democrats think same-sex marriage can help plug the state's deficit.
Gatemouth goes after Charles Hurt.
And pictured above are Ford and Gillibrand during Sharpton's MLK celebration.