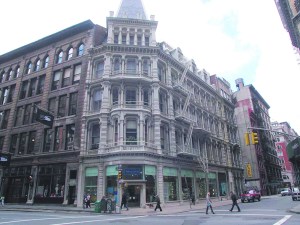 Lord & Taylor, one of the most successful and enduring department store brands, was known for its female elevator operators at one time. The operators on one side of the building were redheads, while those on the other were brunettes.
The (clearly innovative) retailer's third instantiation in New York City was at the gorgeously ornate 901 Broadway, a building whose architecture has been described as reminiscent of that of Prague. One of the earlier buildings in New York City to be declared a landmark, 901 Broadway is one of the most architecturally unique buildings still standing in Manhattan. But, like many real estate stories here, this one could easily have ended unhappily.
The five-story cast-iron building, finished in 1870, right before the Prussians demolished the Second French Empire that inspired its design, was built on the site of a private residence to house Lord & Taylor, at the time an upscale dry goods store.
Lord & Taylor had, in 1869, entered into an agreement with Robert and Peter Goelet to occupy the property at 895-899 Broadway, and with the Badeau family for the corner lot at 20th Street and Broadway, according to the archives of the Landmarks Preservation Commission.
The Goelets and Lord & Taylor hired James H. Giles, a Brooklyn architect, to design 901 Broadway. The architect ignored the fashion of the times, eschewing the imitation stonework generally used for cast-iron buildings of the era, and received rave reviews. "The building under consideration is honest-proclaims itself to be iron at a glance. Its wealth of filigree acknowledges with all honesty what it is made of, and could not have been done in stone for millions," said an 1870 New York Times review.
The Goelets were among New York City's most significant real estate developers, erecting architecturally important buildings such as the Goelet Building (894-900 Broadway), the Gorham Building (889 Broadway) and the Judge Building (110-112 Fifth Avenue). Robert Goelet was the director of Chemical Bank, which would later become Chase Manhattan.
The Sixth Avenue portion of Ladies' Mile served middle- and working-class commuters; the Fifth Avenue shopping section was less noisy and cleaner, the precursor to what is now still the most expensive retail space per square foot on earth. This area spilled over onto Broadway and catered to the wealthier clientele of the "carriage trade," according to New York University historian Mosette Broderick. Lord & Taylor, still a high-end retail concern, is the only remaining brand from Associated Dry Goods Inc. and later May Department stores, once major retail conglomerates.
The building constructed for it has endured as well.