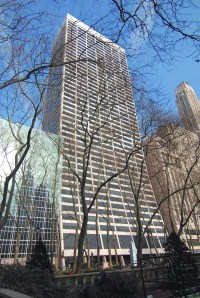 1114 Avenue of the Americas
The restaurant STK claims to make a break from the hypermasculine tradition of steakhouses. With all the exaggerated curves and faux-leather of a sports car, its round booths shaped like hot tubs and club lighting to match a pounding beat, STK pulls off a vibe that is, as its tag line goes, "not your daddy's steakhouse." But in its professed feminine-oriented marketing, the proprietors are not quite so successful. The images that skid across the STK Web site do indeed include women, but only if one counts close-ups of sultry, rouged lips teething on veiny chunks of steak and 4-inch heels digging into T-bones. It's more like a restaurant for misguided straight men hoping to get through the cocktails-restaurant-club part of a date as quickly and efficiently as possible.
The first STK opened in the meatpacking district three years ago, followed by locations in Los Angeles and Miami. It likes to tout its status as a celebrity destination: There, Beyoncé and Jay-Z were overheard planning their wedding, and Fergie was spotted smooching. The Grace Building in midtown will house the concept's second New York restaurant, a 9,000-square-foot space with an outdoor patio. The concave building, owned by Brookfield Properties and the Swig Company, was represented by Ed Hogan. Kim Mogull of Mogull Realty represented STK.
"Midtown is on the cusp of a dining resurgence," said Jonathan Segal, CEO of the ONE Group, the high-end hospitality company that runs the restaurant. STK's menu-though the menu is really beside the point-includes mini gourmet Big Macs and foie gras French toast as well as considerations for the restricted-intake set: Steaks come in small, medium and large.