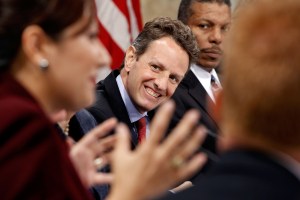 In two weeks, irascible Treasury Secretary Tim Geithner will have the pleasure of answering a few more questions on Capitol Hill.
"I look forward to hearing Mr. Geithner's testimony," said oversight committee chairman Ed Towns in a brief statement confirming Mr. Geithner's appearance on Jan. 27.
Yesterday, the Brooklyn congressman sent out a more lengthy statement detailing the subpoenas he'd served on the New York Fed—Mr. Geithner's former employer—for all their information on the payments to AIG's counter-parties in the fall of 2008.
The AIG controversy had been dormant for a few months, until some emails surfaced that showed the New York Fed had directed A.I.G. to conceal information about the payments.
Mr. Geithner, who has said time and again that he had no choice but to pay out AIG's debt in full, should have his lines memorized by now.