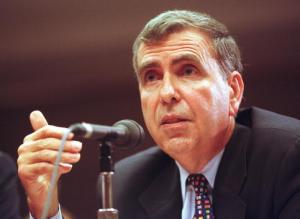 Ten years ago, Jerry Levin was something of a slick New York shark–"a suit and tie man if ever there was one"–brash enough to merge his behemoth Time Warner with the internet giant AOL. 
Now that the deal is considered one of worst mergers in history, and following the murder of his son, Mr. Levin sounds very much like the man who runs the Moonview Sanctuary, a holistic treatment facility in Santa Monica, California. Yesterday, clad in a loose-fitting sweater and sporting a gray beard, Mr. Levin went on MSNBC's Squawk Box to talk about the ten-year anniversary of the deal.
"If you'll give me a few minutes, because I have been obviously reflecting on it. The first thing I would say is that the concept that was underneath it was probably some kind of transcendent concept," Mr. Levin said in a soft, measured tone.
"I presided over the worst deal of the century, apparently," he said. "I guess it's time for those who are involved in companies to stand up and say, 'You know what I'm solely responsible for it.' I was the C.E.O. I was in charge. I'm really very sorry about the pain and suffering and loss that was caused. I take responsibility. It wasn't the board. It wasn't my colleagues at Time Warner."
It's not simply a surfeit of contrition. An Observer profile from 2001 detailed exactly how Mr. Levin had eclipsed AOL head Steve Case, and emerged as the man behind the big merger, which ultimately destroyed billions of dollars in shareholder value.
"Even though the stock was up at the time, there was a lot of tension, and I didn't deal with the psychology with enough compassion," Mr. Levin said yesterday. "It's a little hard to exercise compassion, connection, and love when the market is very unforgiving as it was at that time."
The sit-down is timed to coincide with CNBC's look back at the deal, aggressively titled "Marriage from Hell: The Breakup of AOL Time Warner."