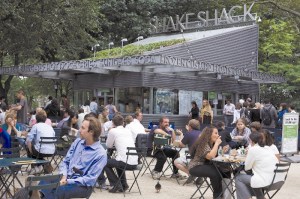 Among the high priests of New American cuisine and the convergence of the infinitely multiplying, complicating and gourmetifying trends that compete to form the New York dining experience, a few culinary iconoclasts have tapped into a crosswind that, if not quite antithetical, is certainly a breath of fresh air. Things, these bold entrepreneurs seem to say, are about to get a whole lot simpler.
Danny Meyer's burger-and-custard, mini-chain-cum-phenomenon Shake Shack, with its stripped-down ingredients and emphasis on their local and organic (if artery-clogging) qualities, is one such paragon of the dual forces of foodie-ism and minimalist values. It's the kind of reinvention of something as commonplace as ordering a burger and shake that morphs fast food into an encounter with locally ground, hormone-and-antibiotics-free, premium-grade beef, and waiting in a fast-food line into a "communal experience."
Mr. Meyer, whose list of New York fine-dining institutions is preposterously long (Union Square Cafe, Gramercy Tavern, Eleven Madison Park, Tabla, to name a few), has resisted propagating his thriving restaurants into the sort of slick, trademarked concepts that turn up in Los Angeles and Aspen, then gradually take over the Food Network prime time. So the gradual cropping up of Shake Shacks in strategic locations across the city (and beyond: Mr. Meyer has plans for Shacks in Miami and Kuwait) represents something of a novel turn for the restaurateur.
While the onetime hot dog stand in Madison Square Park might seem out of place in, say, the sparkling soon-to-be Times Square InterContinental Hotel, the chain's upcoming InterContinental location speaks to the broadening appeal of its high-low cultural fusion. It could also be the fact that, at $4 million in annual sales, a Shake Shack outdoes the traditional fast-food-burger market (McDonald's: $2.29 million) as well as the premium-burger market (Five Guys Burger and Fries: $1.03 million). In a statement, Mr. Meyer credited the "winsome spirit and culture of Shake Shack" with assuring him that now "is the right time to grow this business."
[Corrected from the original, which misspelled Mr. Meyer's name.]