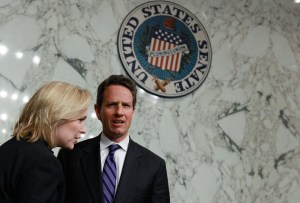 Senator Kirsten Gillibrand is less than enthusiastic about the "TARP Tax" President Obama is proposing.
"There is no question that few places in the country have been harder hit by this financial crisis than New York City and I am concerned that this fee could disproportionately affect New York City's economic recovery, which relies on a growing financial services industry," Ms. Gillibrand told The Observer through a spokesperson. "While the administration's approach is far better than some proposals, such as taxing financial transactions, our focus should be on making sure that banks are lending to small businesses and spurring immediate job creation."
Ms. Gillibrand's theoretical primary opponent, Harold Ford Jr., has tried to outflank her on Wall Street, citing her opposition to the TARP program as one of the key differences between the two of them, and pledging that he would fight more vigorously for the financial services industry. His spokesman, Davidson Goldin, has not returned an email for Mr. Ford's position on the proposed tax.
Dealbook reported the proposal could face stiff opposition in the Senate and might not even come up for a vote, though Barney Frank said that if any senator does oppose it, "they greatly misunderstand what the public thinks about them."