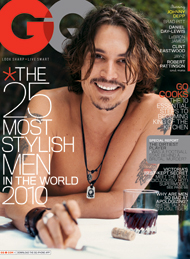 The $2.99 iPhone app version of GQ's January issue sold over 12,000 times, reports Ad Age–almost twice as many times as the deput app of the December issue.
AdAge calls the figures "encouraging," even if they're still wee in comparison to the print circulation (240,000 newsstand sales; 667,851 subscribers):
Conde today said readers are spending as much time and generally engaging with the app versions of GQ as much as they do with print editions.

Repeat readers will start getting a price break on new app versions of GQ, Conde said today, paying just $1.99 instead of $2.99 starting with the March issue. The company is evaluating subscription pricing, it said.
So readers seem to be getting comfortable with enjoying their magazines by touchscreen–a crucial development, if the Apple tablet is to Save Us All.