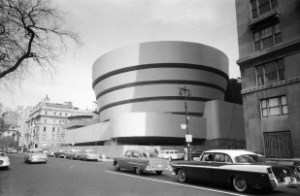 In 2009, its 50th anniversary year, the Guggenheim Museum had its most visitors ever: 1,164,098.
The Times attributes this in part to the Kandinsky retrospective currently hanging, which currently holds the museum's attendance record for a single exhibit.
"Perhaps no other artist has been more closely linked to the history of the Solomon R. Guggenheim Museum than Vasily Kandinsky," noted the museum's introduction to a 2003 exhibition of Kandinsky watercolors. Kandinsky has been a fixture at the museum since its founding, and is well-represented in the permanent collection.
The previous record was held by a show on the work of Frank Lloyd Wright, the architect who designed the Guggenheim.
Presumably, attendance would skyrocket if the Guggenheim transitioned to an all-Guggenheim-all-the-time programming philosophy.