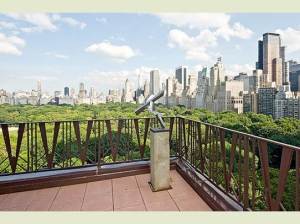 On Dec. 31, hundreds of thousands of revelers clustered under an 11,875-pound geodesic ball in Times Square. They were equipped with kazoos, down parkas and those silly New Year's glasses that, for the past 10 years, have used the two 0's as Lennon-like eyeglass frames. This New Year rang in a new decade, and while screaming 2010 glasses-wearers celebrated in Times Square, others rang in the New Year with more significant odes to the annum.
Within the past week, city records reveal three separate filings in Manhattan luxury real estate all around the $10 million mark. A serendipitous coincidence? Most likely. Worth pointing out nevertheless? Absolutely.
At the Trump International Hotel and Tower at 1 Central Park West, Forbes 400 member Robert Ziff of the Ziff-Davis Publishing concern sold his three-bedroom apartment for an even $10 million. The high-floor apartment with 10-foot ceilings in every room boasts floor-to-ceiling windows that "provide panoramic park and city views," according to the Sotheby's listing. But the "sparkling kitchen" and "dramatic corner dining room" may oft be abandoned in favor of Jean-Georges, the four-star restaurant in the lobby that provides 24-hour room service to building residents.
A few blocks north, at 25 Central Park West, the litigiously wedded Theodore H. Friedman, a lawyer, and former surrogate judge Eve Preminger sold their penthouse and "Central Park West's most dramatic wrap terrace" for $10,050,000. The penthouse apartment "offers a rare combination of terraces, space, views and glorious light." Stribling senior vice president Cathy Taub, who had the listing, described it as "dramatic and glamorous" and confided that it attracted "penthouse buyers." Though Ms. Taub assured The Observer there was always interest in the apartment, it did sell for about $1.5 million less than the asking price.
Across the park, at 1133 Fifth Avenue, Eve C. Weinstein-yes, Harvey's ex-sold her sixth-floor apartment for $10.4 million to Chelsea Piers president and co-founder Tom Bernstein and wife Andrea. The "triple mint apartment affords Central Park and Reservoir views from three major rooms" and was originally listed, only a year ago, for $13.5 million. The four-bedroom apartment boasts an oak-paneled library and private elevator landing.
While others sang "Auld Lang Syne," these savvy buyers toasted 2010 with a nod to the New Year and a deed signed. A sign of a real estate upswing? It's this reporter's New Year's resolution to find out.
cmalle@observer.com