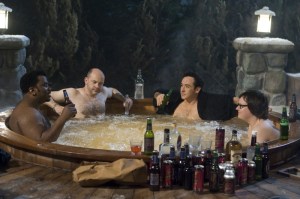 At a recent packed showing of Sherlock Holmes in Kips Bay, there was one preview that managed to wake up the winter-deadened audience: It started with some tittering, which led to some guilty giggling, which then proceeded into full-on hilarity. By the time the name of the film was announced (with arch aplomb by Apatow regular Craig Robinson), it was greeted by spontaneous applause: Hot Tub Time Machine. The film, which won't be released until March, is exactly what the title promises: Four fellas—played by  John Cusack, Rob Corddry, Craig Robinson and Clark Duke—bond in a hot tub that indeed sends them magically back to 1986. Cue up some Miami Vice sweatshirts, clunky yellow cassette-tape players and Michael Jackson–is–still–black jokes! But as funny as Hot Tub Time Machine promises to be, one might be forgiven for thinking the other trailers that followed it also managed to get sucked through a hot-tub space-time warp of Lost-like proportions. Isn't that Harrison Ford, Bruce Willis, John Travolta and Mel Gibson? It might as well be 1986 again as far as Hollywood is concerned!
Yes, yes, we know: The first quarter of any movie year tends to dredge up dusty projects long-shelved by studios (how else to explain Leap Year; the Rock in "you-can't-handle-the-tooth" Tooth Fairy; or the saccharine When in Rome?). But this year's recycled plots and players seem particularly egregious. Here are a few examples coming soon to a theater near you:
Extraordinary Measures
In Theaters: Jan. 22
Tag Line: Don't Hope for a Miracle. Make One.
We have the strangest feeling this is a title that might have been used before (or maybe we're just confusing it with 1998's Desperate Measures or 1996's Extreme Measures or 1985's Counter Measures). Harrison Ford stars as a brilliant research scientist who is enlisted to help a couple (Brendan Fraser and Keri Russell) find a cure for their children's rare genetic disorder. Sure, this one might be closer in feeling, plot-wise, to 1992's Lorenzo's Oil, but it still feels awfully '80s-after-school-special-Hallmark-movie. And with the venerable Mr. Ford on board, one can't help but think of The Mosquito Coast (substitute brilliant, eccentric scientist for brilliant, eccentric inventor) or, thanks to snappy lines of dialogue like "Don't get your hopes up, kid. It's a Hail Mary," classic Ford à la Han Solo in Star Wars or Indiana Jones. Bonus! Alan Ruck, who was Matthew Broderick's long-suffering friend Cameron in 1986's Ferris Bueller's Day Off, shows up in a supporting role.
Edge of Darkness
In Theaters: Jan. 29
Tag Line: Some secrets take us to the edge
At least there's a good reason this movie makes us think of 1985—that's exactly where it comes from. Edge of Darkness originally aired as a critically acclaimed BBC miniseries starring Bob Peck and Joanne Whalley; director Martin Campbell (Casino Royale) has given it a makeover, casting Mel Gibson and placing it in wicked awesome Boston! Mr. Gibson plays veteran homicide detective Thomas Craven, who must investigate the death of his only daughter, uncovering corporate cover-ups and government collusion and all sorts of nefarious doings. Just how many times do you think Mel Gibson has played a cop-gone-crazy at this point?
From Paris With Love
In Theaters: Feb. 5
Tag Line: N/A
Oh boy! This little bonbon comes courtesy of French filmmaker Pierre Morel, who did last year's satisfying revenge-daddy flick Taken with Liam Neeson, and has been tapped to refurbish classic 1984 sci-fi favorite Dune. But this one is set in Paris (so get ready for intense car chase scenes amid quaintly crooked Parisian streets), and has an employee working in the office of the U.S. ambassador (Jonathan Rhys Meyers) paired up with an American spy (John Travolta) looking to stop a terrorist attack in the city. Of course, this wild card does things a little off the book, and even seems a little bit crazy (cough, Lethal Weapon). But, you know, lots of guns and things that go boom and John Travolta acting like an unhinged maniac.
Cop Out
In Theaters: Feb. 26
Tag Line: Rock out with your Glock out
Here's a movie we're pretty sure knows its taking a page from the cop-com classics 48 Hours, Beverly Hills Cop and Lethal Weapon. Bruce Willis and Tracy Morgan are longtime NYPD partners on the trail of stolen and rare baseball cards, which, of course, leads them to a memorabilia-obsessed gangster. Director Kevin Smith is a movie fan, so we're pretty sure he knows what he's doing, and judging from the trailer, the combination of Willis and Morgan looks rather wonderful. Plus! The terrific and underutilized Seann William Scott shows up at some point to make knock-knock jokes from the back of the squad car. Awesome.
The Bounty Hunter
In Theaters: March 19
Tag Line: The pursuit begins Spring 2010
O.K., so we're not exactly sure which '80s film this movie (which wins worst title and tag line) reminds us of, though it does stir up all sorts of Romancing the Stone, Bird on a Wire, Overboard and Tequila Sunrise type feelings. Gerard Butler (and his wildly fluctuating abs) is a bounty hunter who takes people to jail, and he's assigned to bring in his ex-wife (Jennifer Aniston). Surprise! Of course, Ms. Aniston is really a reporter working on a murder cover-up, and the two will have to join forces to run for their lives! Do you think they'll maybe fall for each other by the end? Will someone wake us up for Memorial Day?
svilkomerson@observer.com