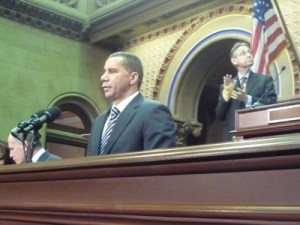 ALBANY—It's David Paterson against the world.
The unelected governor—whose poll standing remains low, whose ability to raise campaign cash has been hampered and who has called legislators "liars" as some of them have brought up his prior drug use—used the greatest platform he is afforded to bludgeon legislators, lobbyists and in general the political-industrial complex of New York.
The question is still: will the voters change their minds?
Paterson has become increasingly drastic in his attempts at political resurrection. On Wednesday, during his State of the State address, the sound of grinding teeth was as loud as the scattered applause (most of which, surprisingly, came from Republicans).
"It doesn't help, certainly, and the atmosphere isn't that good," said Assembly Majority Leader Ron Canestrari, a Democrat from Cohoes. "But in the final analysis, we've got to get the job done and a common ground will be reached. But certainly this sort of rhetoric on the role of lobbyists and other interest groups that are out there doesn't help the process at all."
"I'm outraged," I heard one Democratic legislator grumble to another on the floor after the speech. "Why are you smiling?"
"Oh this?" The second legislator replied. "This is my Andrew Cuomo smile. I didn't look at David. I looked at him."
Traditionally, the State of the State message is a chance for broad visions and clever turns of phrase. Hugh Carey declared, after the profligacy of the Rockefeller administration, that the days of wine and roses were over. It's normally a chance for optimism and broad consensus, something that comes before the details of various proposals are introduced in the budget unveiling and the battles over programmatic priorities heat up.
Which was essentially what Paterson did last year in his first State of the State. (Because of the state's sour fiscal climate, Paterson released his budget proposal several weeks before the speech.) Not so Wednesday.
"It has become customary on occasions of this significance to recognize each and every public official in the room with congratulatory pronouncements and self-reflected praise," Paterson said. "But my colleagues, the times are measure and I would ask, with your understanding, that we dispense with the flourishes and formalities and I would like to address all of you today just as fellow citizens of our great state, all equal under the yes of God, all responsible to the people of the state of New York. Whether our service be short-lived or long-remembered, this is a winter of reckoning and I come before you today not just to talk of the state of the state, but also of the state of our self-governance a fragile instrument of popular will that has become the will to be popular. Where it is easier to deny reality and to demand that which we cannot afford than to accept that years of living on the margins of our means have had to end."
Paterson went on to describe new structures of ethical governance—including term limits and stricter limits on campaign contributions—as well as the need to overhaul the Empire Zones program and create a health insurance exchange.
But the theme was decidedly me-against-you, which no one in the room seemed to miss.
"It is going to be an interesting year," said Assemblywoman Naomi Rivera, a Bronx Democrat. "We are going to be used as a scapegoat, is my concern, and I think there's going to be a lot of compromise and give and take, and it's how much we give and how much we take that is going to dictate how much work we can get accomplished."
Before the speech, a Paterson aide told me his remarks were not intended for the people in the room, but for citizens outside. Paterson's goal is to stand apart from broken Albany, gambling (probably wisely) that the system will fail to meet the challenges ahead.
Paterson will conduct 10 radio interviews in all corners of the state Thursday, blasting his position at high wattage as newspapers tout his castigation of legislators in headlines. There is a formless dissatisfaction with Albany—one recent poll showed 76 percent of voters thought their government to be dysfunctional, but were unsure who to blame—that Paterson seeks to foment. The State of the State address was meant for them.
For now, the Republican reaction has been a sort of bemused lip-licking. Senator Dean Skelos, the Republican leader in that chamber, said he hoped Paterson has "had a conversion" to the need for fiscal restraint. Smiling, he told reporters, "it's going to be a great year."
There was only one standing ovation for Paterson's 29-minutes speech: its conclusion. Paterson shook hands with several legislators under the brown sandstone Great Western Staircase. Everyone—labor leaders, clergy, and legislators of both parties—had come to see Cuomo, who was holding a traditional mingle outside his office. Paterson walked up to the attorney general, they touched each other, muttered some inaudible syllables and moved on.
"The outline of the direction is right," Cuomo said of Paterson's speech, when asked. "Where I think we've had trouble in the past is actually getting it done."
Those gathered around him smiled their Andrew Cuomo smiles.