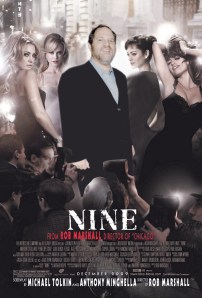 The trailer for the movie Nine declares portentously that "one man must find the magic"—and, let's face it, the trailer is about as close as most people have been to the musical. Another quick clip has Daniel Day-Lewis, playing an Italian film director, declaring, "I can't remember how you do this."
Irony alert: Nine was supposed to be this year's breakout hit for the Weinstein Company, pulling Harvey and Bob Weinstein out of the muck they've slogged through in the five years since they parted company with Walt Disney and Miramax, the indie-film juggernaut they founded. Nine reunited the Weinsteins with director Rob Marshall, who snagged six Oscars, including Best Picture, with Chicago, and features Mr. Day-Lewis and a cast of Oscar-toting starlets, including Nicole Kidman, Marion Cotillard, Penélope Cruz, Judi Dench and Sophia Loren. Nine has grossed only $22 million worldwide, to mixed reviews. Magic not found.
Alas, going into next Monday's Academy Award nominations, there is plenty of chatter about the Weinsteins—and Harvey in particular—but not so much about how their flicks will do against the likes of Avatar and Up in the Air. Rather, the rumble again this year is about how many more Oscar campaigns the Weinsteins have in them—and whether indeed this might really, truly be their last gasp. Like the year before it, the past year brought an incessant drumbeat of reports of financial trouble and potential restructurings for the Weinstein Company, or TWC, as they call it, including the hiring of a financial restructuring firm, and, more recently, hopeful reports of new funding. (It doesn't help that Harvey remains one of the least beloved figures in Hollywood; when reports circulated about audiences getting sick at early screenings of Avatar, some at Fox believed they originated from the Weinstein camp.)
Even though they may not be such a big factor anymore, we care about the Weinsteins at Oscar time because Harvey Weinstein perfected the art of turning promotion into awards and, often, box office muscle. It was part of a virtuous circle approach to big-time moviemaking that involved a focus on high-wattage stars whose work was promoted tirelessly during awards season, and then bringing home a disproportionate number of statues that would prime the machine for future years. At the same time, with Disney's lavish backing, Weinstein championed smaller and artier films that otherwise would have received far less recognition or success—Il Postino, Shakespeare in Love and The English Patient, to name a few. And he pushed equally hard for some stinkers, like All the Pretty Horses and The Producers—and, now, Nine. Of course, every studio has had their once-promising Oscar contender that is now pretty much written off. (Amelia? The Lovely Bones?) But more than any other TWC production, Nine was most reminiscent of the Miramax of old, with lavish premieres in New York and London, the cast on Oprah and a conspicuous number of presenting slots at the Golden Globes.
Last year, the Weinsteins saved some face in another disappointing year when The Reader earned Kate Winslet a Best Actress statue. This year, TWC had high hopes for Nine as well as The Road, which also fizzled.
Even with Nine out of serious Oscar contention—and it did pick up a Screen Actors Guild award last week—the Weinstein machine still has some shots with Tom Ford's A Single Man and particularly Quentin Tarantino's strikingly clever and financially successful Inglourious Basterds. The war fantasy could benefit from the Best Picture category being expanded from 5 to 10, but, unfortunately for TWC, Basterds came out too early in the year and is too violent to expect much of a box office bump from Oscar attention.
Make no mistake, there is a deathwatch on with TWC (I asked the company for an interview for his column, but they declined), which makes it even more of a wonder to see them plow through another awards season, doubters be damned. New York's irascible movie mogul has been recast, implausibly, as underdog. Will Harvey still be stumping for gold statues in another five years? Will he find the magic?