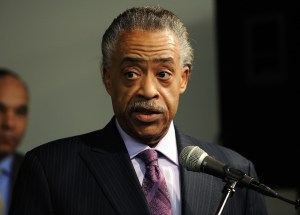 Al Sharpton said Kirsten Gillibrand should flip Harold Ford's criticism about her being a "parakeet" for Chuck Schumer and Senate leadership.
"The question becomes, on one level, you will not do what the president and the Democratic leadership in the Senate thinks is right. The question can go both ways," said Sharpton in a scrum with reporters at 250 Broadway after a press conference about redistricting.
"Are you saying if a Democrat votes 95 percent or whatever with the Democratic leadership, that they're a parakeet? I think Harold would have to answer that." He added, "I think it is expected in a Democratic primary that who you vote for is going to be supportive of President Obama and the Democratic Party." 
Sharpton said Gillibrand should respond to the parakeet comment by saying, "I voted with President Obama. Is Mr. Ford saying he would not be voting with President Obama?"
Also, Sharpton said he saw Ford this morning, lunching with Pat Lynch of the P.B.A…at the Regency Hotel.