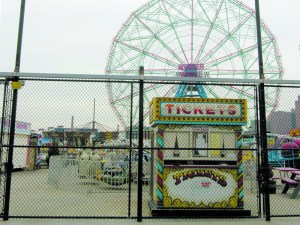 Coney Island
Zamperla USA is close to signing a lease to operate 6 empty acres on Coney Island. The negotiations with the city's Economic Development Corporation, first reported by NY1 News, are expected to be completed as soon as this week. Zamperla, an Italy-based manufacturer of amusement rides, operates Central Park's Victorian Gardens and Minitalia Leolandia Amusement Park in Capriate San Gervasio, Italy.
City officials' vision for the revamping of Coney Island has often conflicted with that of developer Joseph Sitt, who spent millions buying up properties along the famed boardwalk and touted plans for a glittering, Vegas-style destination, complete with a four-star hotel, an indoor water park and an entertainment megaplex. Then last year, the city bought a large swath-roughly 6 acres-from Mr. Sitt.
Among the bids to the Economic Development Corporation for a new amusement park, Zamperla's proposal distinguished itself, city officials told The New York Times.