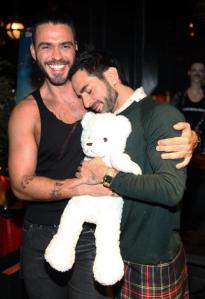 Marc Jacobs got married.
Sorry, New York; you can't trademark "Tavern on the Park."
Are Hillary Clinton's erstwhile supporters more content with Barack Obama than his own backers?
Michael Wolff thinks David Carr "is positively smoking something."
Printing a pamphlet on how to use heroin: controversial, it turns out.
The Bank of America buster, and generally omnipresent federal judge Jed Rakoff, likes to cut a little rug.
The Steve Cohen divorce/racketeering/insider trading case keeps getting stranger.
Clay Risen will join the Times' op-ed page.
"STOP SHOPPING ITS SICK! BARF!" says prominent local building.
What Eliot Spitzer can learn from a dead British politician who had been sleeping with a KGB agent.
What hiring Simcha Felder means for John Liu.
When it comes to star athletes pulling guns, D.C. Mayor Adrian Fenty is no Michael Bloomberg.
The problem with newspaper articles is that they're too long, says The Atlantic, in article that might be called sort of long.