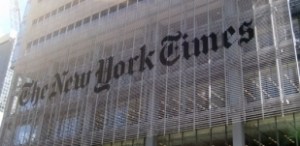 The Times has finally reached a paywall decision: as rumored over the weekend, the paper will be adopting a metered model, to be in place at the beginning of next year.
From the press release:
The new approach, referred to as the metered model, will offer users free access to a set number of articles per month and then charge users once they exceed that number. This will enable NYTimes.com to create a second revenue stream and preserve its robust advertising business. It will also provide the necessary flexibility to keep an appropriate ratio between free and paid content and stay connected to a search-driven Web.

Through 2010, NYTimes.com will be building a new online infrastructure designed to provide consumers with a frictionless experience across multiple platforms. Once the metered model is implemented, New York Times home delivery print subscribers will continue to have free access to NYTimes.com.
In an emailed "Message from Arthur and Janet," Sulzberger and Robinson added that The Times would be acting independently:
There has also been much speculation in the media and elsewhere about whether The Times will join a consortium as part of the metered model
implementation plan. At this stage, our plan is to introduce the metered model as a stand-alone product. At the same time, we continue to discuss alternatives with a broad range of prospective collaborators with regard to bundled offers and other aggregation opportunities.
"It will take time to get this right," they wrote of the pay system, but called it "a natural next step."