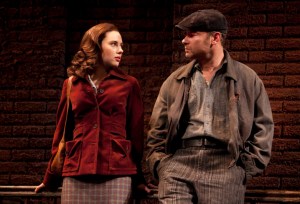 It's a thankless task, being the father in an Arthur Miller play—always a failed salesman or a suicidal military-parts manufacturer. So, too, for Eddie, the paterfamilias uncle in A View From the Bridge, who has a hard job as a Brooklyn longshoreman, a devoted but nagging wife and a lovely young orphan niece who's growing into a woman and for whom he might have feelings that are more than avuncular.
The niece, Katie, lives with Eddie and his wife, Beatrice, in their tenement apartment in Red Hook. And, of course, the big draw in this current production of A View From a Bridge, which opened Sunday night at the Cort Theatre, is that movie star Scarlett Johansson is making her Broadway debut as Katie, opposite Liev Schreiber as Eddie. Their characters live in a constricted world, filled with other Italian longshoremen and their families, and a strong sense of how things should be. As the play starts, the Carbone home is a seemingly contented one—mother, father and niece-as-daughter living happily and lovingly. But it's quickly clear there's tension, too: Katie, in a post–high-school stenography school, has been given a job offer, and Eddie doesn't want her to take it. It's clear he can't allow himself to let her grow up.
That night, two "submarines" arrive, illegal immigrants. They're Beatrice's cousins, smuggled in from Italy. They'll live with the Carbones, and work with Eddie on the docks, and the omerta code of the neighborhood ensures that no one will report them to the Immigration Bureau. One is Marco, dark and solid, a central-casting longshoreman. His brother is Rodolpho, slighter and blond; he also sings and cooks. Katie falls for Rodolpho, and thus begins the tragedy. Eddie won't tolerate the match, her departure. He first tries to convince Katie that Rodolpho is only interested in her for citizenship; then he tries to convince her "the guy ain't right," by which Eddie means that Rodolpho is gay; finally, without any other options, he reports the submarines to Immigration.
Mr. Schreiber, perhaps the most powerful and intense stage actor working today, is, as always, excellent; here, he gives Eddie a restrained physicality that hints throughout at the horrible ending to come. Ms. Johansson, in her first stage role, acquits herself well. She's too old for the part—she often seems more Beatrice's younger sister than her school-age niece—but in 1940s costume and with a Brooklyn accent, she effectively tones down her movie-star-ness to give a convincing performance as Katie, rather than a performance of Scarlett Johansson playing Katie. When she has her big final confrontation with Eddie, she can't quite hold her own against Mr. Schreiber—but then, not many can.
One who does is Corey Stoll, who plays Marco and effectively stands up to Eddie—and to Mr. Schreiber—in their final showdown. Jessica Hecht, as Beatrice, essentially reprises her performance as Blanche in the recent, ill-fated Brighton Beach Memoirs. Morgan Spector, as Rodolpho, is the weak link in the cast: Eddie's insistence on Rodolpho's homosexuality should be his own delusion, but Mr. Spector is a touch too fey, with a heart-shaped face that looks a little too much like Alan Cumming's, to make that clear.
As directed by Gregory Mosher, this View From the Bridge is intense, emotional, physical and moving. It's impressively economical—every line, movement, reaction exists only to build the tension to what Miller, in a foreword to the script, calls Eddie's inevitable "catastrophe." The only times it slackens—and this is Miller's fault, not Mr. Mosher's—is when Mr. Alfieri, Eddie's lawyer, shows up to once more explain what's going on. It's unnecessary, and it takes you out of the story. It also prompts the question: When an attorney follows you around all day to explicate the implicit, does he charge an hourly fee or a retainer?
Across the East River, there's another bridge in town: the second season of the Bridge Project, the collaboration of BAM, London's Old Vic and Neal Street—the director Sam Mendes' production company—to produce classical theater with a transatlantic flavor. Last year delivered excellent productions of Shakespeare's Winter's Tale and Chekhov's Cherry Orchard, along with some big names: The Chekhov was newly adapted by Tom Stoppard; the company included Ethan Hawke and Josh Hamilton and Simon Russell Beale and Richard Easton.
This year's edition pairs two Shakespeare plays: As You Like It, which opened at the BAM Harvey Theater last week, and The Tempest, which will commence next month. The actors are less well known—Thomas Sadoski, as Touchstone in As You Like It, might be the most recognizable name to American theatergoers—but their performances, and the production, are no less good. As You Like It is a charming and romantic play—if also, like many of Shakespeare's comedies, somewhat ridiculously plotted—and it's a joy to watch the hijinks unfold, especially on Tom Piper's gorgeous, painterly Arden Forest set.
It's been a tough few years for revivals of old three-act farces set in the spacious living rooms of self-absorbed theater people. First, last spring, came the dreadful Accent on Youth, from 1934, in which David Hyde Pierce played an aging playwright in love with his secretary. Then the fall brought The Royal Family, George S. Kaufman and Edna Ferber's 1927 sendup of the Barrymores, which required audiences to sit through three often-dull hours for the pleasures of its lovely second act.
But now, finally, there's Noël Coward's 1939 Present Laughter, which opened in a funny, fresh and entirely entertaining revival at the Roundabout Theatre Company's American Airlines Theatre last week. It, too, has the requisite living-room set: a decadent Deco duplex with leather couches and a flowing stairway. But, much more important, it's got a script of witty Coward epigrams and a veteran and very funny cast—under the fleet direction of Nicholas Martin—to deliver them.
Victor Garber plays Garry Essendine, a role Coward wrote for himself, an over-the-top star of the London stage. He's delightfully entitled, hammy and petulant. Even better is Harriet Harris, who steals each scene she's in as his arch, droll secretary. Brooks Ashmanskas eventually grows a bit tiresome as an eccentric young playwright attempting to ingratiate himself with Essendine, a high-energy collection of nervous tics and prissy mannerisms. But his initial meeting with Harris' secretary—a handshake face-off—is some of the best comedic acting I've seen.
Horton Foote's Orphans' Home Cycle grew on me. It's the playwright's final work—a series of nine one-acts performed over three evenings, tracing the hard life of Horace Robedaux in the early part of the 20th century. I found the first part—in which young Horace loses his father and is abandoned by his mother and then goes to work for a drunken plantation owner—slow-paced and a touch tedious.
But, as my mother—a Foote fan whom I brought along to all three parts—kept telling me, it's like a good novel, and the pleasure is in getting to know the characters and becoming embedded in their world. Sure enough, in  the second part, the accretion of detail—all those intertwined relatives and reminiscences in Foote's fictional Harrison, Texas—was drawing me in. By the third part, which opened last night at the Signature Theatre Company's Peter Norton Space, I was wrapped up in the story, suffering along with Horace through the 1918 flu pandemic, feeling his pain when his young daughter dies.
And yet. Orphan's has done well enough at the Signature—which devotes each season to one playwright, and where all tickets cost only $20, thanks to a grant from Time Warner—that there's serious talk of moving it to Broadway. I'm no Broadway producer, but nine hours of sad stories, spread over three nights, at Broadway ticket prices, without any big names in the (admittedly excellent) cast, does not seem like a recipe for a hit.