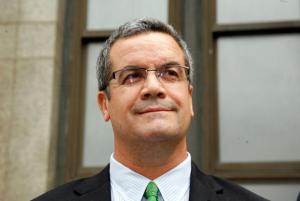 Accused Letterman blackmailer Joe Halderman has failed in an attempt to get his case thrown out of court.
Mr. Halderman's lawyer, Gerald Shargel, had argued that his client legitimately wanted to write a screenplay about the comedian's personal life, and to offer Mr. Letterman first dibs on the rights. In other words, his behavior was enterprising, not criminal. But the judge didn't buy it.
By charging Mr. Halderman, prosecutors were impeding on his constitutional right to write a book or screenplay about a public figure, Mr. Shargel argued.

But Justice Solomon saw it differently.

"Since the defendant is not being prosecuted for authoring either a book or screenplay, his constitutional right to free speech has not been impacted," the judge wrote.
He added that this was "a classic example of an issue that is best left for a trial jury to decide," according to the A.P. Halderman's next court date will be March 9.