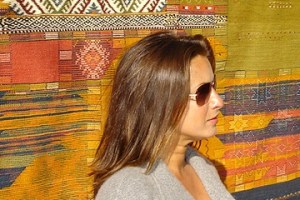 Early December we spent a week in/around Marrakech. Since my last visit 8 years ago, I had a lot to check out and experience. With all that has opened and the progression of service and great food (plus ease of getting here), I rate Morocco highly for a long weekend or holiday. A relatively safe & friendly country, with 300 days of sunshine a year, a textured culture, great style & cuisine, wonderful places to stay … one to add to your list or return again soon!
Here's how I'd map out a week trip (or take any part over shorter period):
·      Spend the first two nights at the new Kasbah Bab Ourika in the Atlas Mountains, 1 hour from Marrakech, with stunning views, great pool, and home-cooked delish food
·      Stay three nights in the Palmeraie sunning, spa-ing and sporting at either Ksar Char-Bagh or Jnane Tamsna
·      Take the last two nights in the Medina to shop and go out; stay at the ultra-romantic Riad Farnatchi or see my cheat sheet for other great options
·      Moroccan cuisine can be delicious or … nastily heavy.  Check out my restaurant file for where to best enjoy lunch & dinner
·      Shop the souks with expert personal shopper Laetitia Trouillet and take a historical guide (see Insider Tips in my cheat sheet).
·      BEWARE of these over-hyped properties in Marrakech—see my files
Note: I did not stay at the famed, newly refurbished La Mamounia, but did spend the day poolside and visited every space possible. The much anticipated plush Royal Mansour, owned by the King, opens in March … I'll keep you posted …
Enjoy the magic!
Suzanne Aaronson, Co-founder of Suzanne's Files, is our Travel Curator. Stay in-the-know on her latest finds and insider tips by signing up to receive Notes from Suzanne's Files, a free e-newsletter.