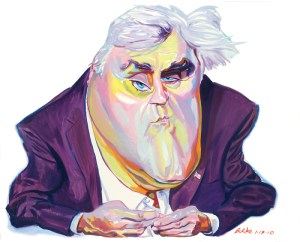 "What Leno is doing now is slimy," said Thomas J. Kelly.
It was the afternoon of Monday, Jan. 18, and Mr. Kelly, a 33-year-old comedian, was standing on the outskirts of Rockefeller Plaza, catching his breath. For the past half-hour, Mr. Kelly had been striding back and forth in front of the NBC headquarters in New York, leading a crowd of rabid Conan O'Brien fans in a series of chants protesting the network's handling of its late-night lineup.
The rank-and-file members of Team Conan were dressed in orange for the occasion. For the time being, Twitter had given way to handmade signs. "Save La Bamba!" Love for Mr. O'Brien mingled with anger at Jay Leno.
"I WATCH O'BRIEN!" the crowd chanted. "JAY SHOULD STOP CRYING!"
"PLEASE SAVE CONE! GIVE JAY THE BONE!"
"JAY SHOULD HAVE SOME CLASS! CONAN KICKS HIS ASS!"
Jeff Zucker, the architect of NBC's late-night clusterfuck, was nowhere to be seen. But somewhere in the NBC galaxy, well out of sight of Coco nation, the network's lawyers were finalizing the logistics of their late-night counter-reformation.
In recent days, details had gradually leaked out. After the Olympics, Mr. Leno would be restored to The Tonight Show throne. Mr. O'Brien would take a buyout and look for a new home elsewhere.
Already, NBC seemed to be preparing for the Conan purge. A few yards away from the protesters, inside the NBC Experience gift store, a lone Conan O'Brien hat rested on a "for sale" rack, alongside the detritus of other shows that had struggled (American Gladiators) or were struggling (Last Call with Carson Daly). The navy Conan hat was marked with a big yellow tag, reading "CLEARANCE."
On the plaza outside, Mr. Kelly, the comedian and Web site entrepreneur ("ihateweddings.com"), said that he liked Mr. Leno and loved Mr. O'Brien. All along, he had been rooting for Mr. Leno to succeed in prime time. The Jay Leno Show, he felt, could have been American Idol meets Ed Sullivan meets America's Got Talent. But in the end, Mr. Kelly conceded, it was just mediocre. "It was either sabotage or laziness," Mr. Kelly said of Mr. Leno's failure.
Either way, to Mr. Kelly's annoyance, Mr. Leno has once again come out on top. "How many other people is Jay hurting?" said Mr. Kelly. "He signed a bad deal five years ago. He signed a bad deal a year ago. But stick to your word. The classy move would have been to move to Fox."
"Leno had a nice-guy reputation that he is slowly damaging," he added. "He's eating away at that supposed nice-guy charm…"
Mr. Kelly was interrupted by a chant.
"LENO KILLS PUPPIES! LENO KILLS PUPPIES!"
FOR THE PAST several weeks, late-night television hosts have taken turns killing Mr. Leno. From the get-go, Jimmy Kimmel led the charge, with a lisping, vicious impersonation of Mr. Leno as a guy with a desperate death-grip on The Tonight Show. "I'll burn it down if I have to," said Mr. Kimmel as Leno. During a subsequent appearance on The Jay Leno Show, Mr. Kimmel again attacked. "I don't like strippers, in general, because you have this phony relationship with them," said Mr. Kimmel. "Similar to that of when you and Conan were on The Tonight Show together, passing the torch."
Over on CBS, David Letterman—himself a Tonight Show heir apparent until NBC passed him over for Mr. Leno—was getting laughs imitating Mr. Leno as a single-minded weirdo, eavesdropping in closets, diddling with cars. On NBC, Mr. O'Brien was portraying Mr. Leno as a self-interested schemer. "I just want to say to the kids out there watching: You can do anything you want in life," said Mr. O'Brien. "Unless Jay Leno wants to do it, too."
And seemingly everywhere you looked in New York comedy, writers and performers were venting their Leno rage.
Matt Besser, one of the founders of the Upright Citizens Brigade Theatre, recently wrote a song and posted it on YouTube called "King Zucker + the Soldier." ("Leno said, I want to work as your hack host/ and I promise never to budge from Carson's post/ and I'll write the kinds of jokes that resemble white toast. …")
The comedian Patton Oswalt compared Jay Leno to Richard Nixon.
"I think what blows my mind is how dumb people are to actually think that Leno has 'no idea what's going on' and that he just 'happens into these situations because of the mistakes of NBC,'" wrote comedian Jessica Stickles on Tumblr. "There's a difference between being a nice guy, just being the pawn, not knowing whats happening and being absolutely manipulative and desperate."
For years, Mr. Leno has carefully cultivated this public persona as a wisecracking nice guy—the happy-go-lucky joker eliciting smiles from the good folks at the country fair. To hear the host tell it, there was nothing overly complicated or neurotic or upsetting about him or his humor. What you see is what you got.
In recent weeks, however, the facade of Mr. Leno's well-polished persona has begun to crack. What has become Exhibit A in the case against Mr. Leno as a simple, nice-guy comic is a clip from The Tonight Show, circa 2004. In the video, Mr. Leno sits in The Tonight Show studio and explains his plans to hand over the program to Mr. O'Brien without the kind of tension and animosity that accompanied his bitter succession battle with Mr. Letterman following Johnny Carson's retirement, in 1992. When the time eventually comes to step down, Mr. Leno promised, he would do so gracefully. "This show is like a dynasty," he tells the audience. "You hold it, and then you hand it off to the next person. I don't want to see all the fighting and 'who is better' and nasty things back and forth. Right now, here it is. Conan, it's yours. See you in five years, buddy."