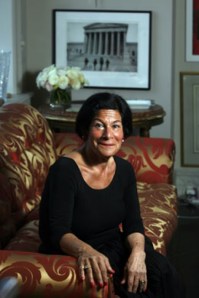 Natavia Lowery was a thief but not a killer, her lawyer said at the opening of the young woman's trial for killing Linda Stein, Manhattan real estate broker to the stars.
The indebted Ms. Lowery, now 28, stole repeatedly and often brazenly from her boss, whose star-studded Rolodex included Sting, Angelina Jolie and close friend Elton John, according to the defense's opening statement.
"Natavia was more interested in what she was doing at night" than in advancing her career as Stein's personal assistant at Manhattan real estate company Douglas Elliman, her lawyer said, as Ms. Lowery sat upright and expressionless in Manhattan Supreme Court, wearing six-inch heels and a dark grey suit.
She wasn't savvy enough to murder her boss without a trace of physical evidence, John Christie, of Neighborhood Defender Services in Harlem, told jurors.
The courtroom was packed for the opening of the trial, which Judge Richard Carruthers told jurors will likely last eight weeks. It has drawn attention due to Stein's high-profile status, as well as Ms. Lowery's confession to police that she beat her boss to death with a yoga stick for blowing marijuana in her face.
"Natavia got by in life by telling people what they wanted to hear," Mr. Christie said, addressing the prosecution's key evidence, Ms. Lowery's confession at the 7th Precinct about a week after the murder.
The prosecution presented a very different picture of Ms. Lowery, as a calculating thief who reaped rewards "not earned, but taken anyway" during the six months she worked for Stein. Ms. Lowery opened two American Express accounts using her employer's name and forged a $4,000 check to the Girls and Boys Clubs to earn tickets to the premiere of American Gangster, according to the prosecution's opening statement.
"No one could enter that apartment building without being observed," Joan Illuzzi-Orbon, of the Manhattan District Attorney's office, told jurors of Stein's 18th-floor apartment at 965 Fifth Avenue, which could only be accessed by a manned elevator. Security tapes will show Ms. Lowery was the only person who entered Stein's the day she was murdered, Oct. 30, 2007, the prosecutor said in her opening statement.
According to Ms. Illuzzi-Orbon, when confronted by her feisty boss about the theft, Ms. Lowery turned on the 62-year-old woman, hitting her in the back of the head six times with a yoga stick. It must have been a calculated move, the prosecutor claimed, because there was no blood on Ms. Lowery's clothing and no DNA left at the scene.
The prosecution's first witness, the victim's daughter, Mandy Stein, 34, testified that she was staying with her mother for a couple of weeks while working on a documentary, but left at 9:30 that morning. When she returned at 10:30 p.m., she found her mother face down in a pool of black and red blood. Her body was already cold and hard.
Ms. Stein's testimony took up the bulk of the day, stretching from 11:30 in the morning until 5 p.m.
"I feel sick, but I can't be," Ms. Stein, who lives in Los Angeles, told her sister before court. But on the stand she gave a measured account of the day her mother was murdered.
Only when prosecutors showed pictures of her mother, lying dead near her desk in a North Face fleece and sneakers, did Ms. Stein lean forward in her seat, head in hands.
"Help me, help me," the hysterical Ms. Stein said four times on the emergency services tape, which prosecutors played as part of the evidence. She called two operators, one on the landline and one on her cell phone, in an effort to get help more quickly. But her mother had been dead for hours, according to autopsy reports.
In his cross-examination, defense attorney Thomas Giovanni questioned Mandy Stein, petite and dark-haired like her mother, about a relationship she described as "tumultuous." Over prosecutors' objections, Mr. Giovanni asked Ms. Stein about an incident a couple of weeks before the murder when her mother kicked her out of the apartment and her feelings of "shame" at being financially dependent on her mother.
He also asked her about a lawsuit that Ms. Stein filed recently for $10 million against Douglas Ellman for hiring Ms. Lowery. In the suit they claim the personal assistant, who was hired from a temp agency, had a history of stealing from employers. But not of violence, Mr. Giovanni noted.
Defense attorneys are expected to wrap up their cross-examination of Ms. Stein on Tuesday. Then prosecutors plan to call the doorman and elevator operator from the Upper East-side apartment building where Linda Stein was murdered.