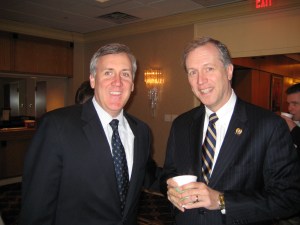 NEWARK — Bergen County Executive Dennis McNerney, about to face one of the toughest reelection battles of his career, said that he doesn't see signs of a Republican resurgence in Bergen County.
"The pendulum isn't swinging back. We've only been in total control for four years. The Republicans were in control for 20 years before that. So that's a pretty short pendulum," said McNerney from the Chamber of Commerce's pre-"Walk to Washington" breakfast this morning.
Republicans picked up two freeholder seats last year – the first time they won county-wide since Lisa Randall picked up a freeholder seat in 2003. And the notoriously dysfunctional county GOP has unified around County Clerk Kathleen Donovan to challenge McNerney, who is seeking a third term.
But McNerney noted that, despite their freeholder wins, there remain more Democrats than Republicans in Bergen County (even if one of Donovan's core strengths, according to observers, is her ability to appeal to Democrats and independents).
"The numbers are still our way. Corzine won the county. The Demographics are still there," he said.