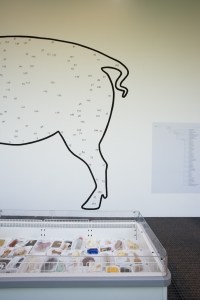 MoMA has acquired PIG 05049, a work that catalogues all the products made from a randomly-selected pig (pig number 05049) on a Dutch commercial farm. The 185 items include porcelain, heart valves, cigarettes, and marshmallows.
A collaboration between Christien Meindertsma and Julie Joliat, PIG 05049 includes wrapped and labeled specimens of the pig's produce as well as a meticulously-designed book. It won a 2009 Index Award for "design to improve life."
Paul Galloway of the Architecture and Design department says that the work reflects contemporary environmental concerns, revealing "the difficulty of attempting to live in harmony with nature."
Besides, pork—the fashionable fat aficionado's food of choice. Although pigmeat in pork buns is probably more appealing than pigmeat in paint.