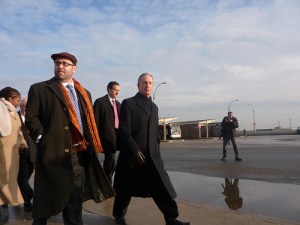 Michael Bloomberg sought to "repair damage caused by his campaign to overturn term limits," writes David Chen.
Full video here.
Alec Ross says Bloomberg "will be defined entirely as a mayor for what he does during his 3rd term."
Joel Kotkin wants Bloomberg to help New York shed its "Sex and the City" image "and start making New York a city where people can have both sex and children."
Errol Louis wants a more compassionate Bloomberg.
In USA Today, a photo of Bloomberg is used for a story about muted inaugurations nationwide.
Bloomberg already met with Ron Lauder.
Courtney Gross wraps up the inauguration.
Forgetting to hold his hand on the bible won't affect Bloomberg's swearing-in.
From the Post editorial: "Bloomberg needs to force upon the public-employee unions economic sacrifices that at least approximate the pain being absorbed by the private sector."
The Daily News agrees. "The costs of city government, notably its personnel expenses, must be restrained in order to give the taxpayers a break."
John Liu said his speech was nothing new and that "I was not throwing down any gauntlet."
Bill de Blasio will teach residents how to protest on the City Hall steps.
"Every week, you're going to see us out there," said de Blasio's spokesman.
The Times quotes a de Blasio supporter saying they want him to be mayor.
New Council members won't get badges.
Of Andrew Cuomo, Charlie Rangel said, "I just don't see how he could possibly run against Paterson."
Jacob Gershman disagrees.
Hank Sheinkopf says Steve Levy would "have a higher probability of winning an election statewide as a Republican."
Dan Donovan considers a job in Albany.
On Tuesday, election officials will choose new voting machines.
The city wants to collect $34,866,549 in commercial tax rent on the former World Trade Center.
Fees went up to film in some municipal buildings.
The Mets gave taxpayer money to companies the city refuses to do business with.
The city spent $32,000 on pamphlets about shooting heroin safely. (The pamphlet looks better than the old ones the city used to hand out.)
A program to share taxis is behind schedule.
Look out Liz Benjamin: Jeff Klein is going to start long-distance running.
Dominic Carter, contrite.
Assembly Member Nettie Mayersohn co-authors an op-ed in support of shutting down Jamaica High School.
Jacob Soboroff recalls getting the "don't screw it up" line from Bloomberg.
Ray Kelly dines with Jennifer Lopez.
And pictured above is Bloomberg and his aides on inauguration day, walking to Staten Island Borough Hall to continue their day of volunteering.