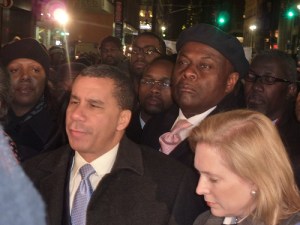 Andrew Cuomo has lots of money; Paterson has 14 consultants and less money than Steve Levy.
Paterson raised $2.2 million, less than in his previous filing.
Paterson spent $1.8 million on 2,534 television ads.
Paterson gets a kind headline on Joe Spector's piece.
Cuomo is "way up" on Paterson in terms of money, says Janison.
A theory from Levy's backyard: "I think the three-way race (Cuomo, Paterson, and Levy) is the preferred set-up for Suffolk's county executive."
Anthony Del Pellegrino: "In retrospect, David Paterson would have been much smarter to have appointed Cuomo to the Senate seat instead of Gillibrand."
The backlog for auditing campaigning filings is more than a year long.
Paterson will release money for schools.
Ford will meet Keith Wright today.
Horowitz tries asking Ford a bonus question: "When asked in the interview whether he himself had received a bonus from his employer, his spokesman, Davidson Goldin, interrupted, as he did on other topics not related to Ford's rationale for running, which the media handler understood to be the sole focus of the interview. At that point in the interview, Ford stayed silent, but Goldin later offered that Ford's 'salary is set by contract.' "
A Planned Parenthood advocate from Tennessee said it's wrong to call Ford anti-choice.
Schumer and Gillibrand are split on their support of Obama's tax on "obscene bonuses."

Monserrate said he has learned and grown and will fight to stay in office.
The Times: "[T]he entire Senate should get rid of him as quickly as possible."
Scott Murphy on health care: "I said, 'Look, I'm not going to vote for it if I don't get to read it."
Labor scores a victory on health care.
Astorino tries getting public employees to pay towards their health coverage.
Hikind backs Lazar instead of Dear.
Bloomberg defends the FDNY.
Clyde Haberman: "Perhaps in the power politics being played by the Obama team, we are witnessing a partial realization of Dr. King's 1963 "I Have a Dream" speech — with people judged not by the color of their skin but by the content of their poll numbers. In politics, that may qualify as progress."
Staffers to Antoine Thompson and Paterson make the front page.
Steven Spielberg will make a documentary about the rebuilding at ground zero.