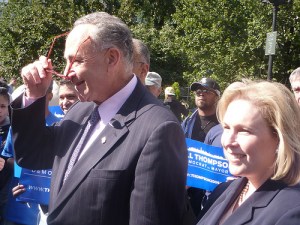 Political ads this year could get more exciting, depending on a Supreme Court ruling due tomorrow.
Kirsten Gillibrand raised about $7.1 million and has $5.1 million on hand.
Chuck Schumer was rooting for Obama behind Clinton's back, according to Mark Halperin and John Heilemann. Schumer denies.
Harold Ford Jr. is reaching out to African-American lawmakers, but not to much of the Democratic establishment.
Ford now supports same-sex marriage
Al D'Amato wants Rick Lazio to challenge Gillibrand.
Casey Seiler said New Yorkers have elected "opportunistic carpetbaggers" before.
Gary Ackerman set up a meeting for officials at a company he owns stock in, reports the Daily News. He also got a big payday when he sold their stocks.
The News editorial board whacks Ackerman.
Ackerman is on the wood.
The Post edit board says Andrew Cuomo needs to take down Pedro Espada in order to justify broadening his office's power.
Richard Brodsky raised $1.3 million, for whatever job opens up.
George Onorato is retiring, and Mike Gianaris is ready.
Michael Bloomberg lost a few bucks.
Bloomberg hired more campaign aides: Larry Scott Blackmon at $169,000; Matt Gorton at $75,712; and Mike Hopper at $140,000; and Brian Mahanna at $140,000.
Neal Kwatra turned down an offer to work for Kevin Sheekey.
Thomas Carroll calls Michael Mulgrew an old-school union boss, and newfound critic of Bloomberg.
Davis Paterson wants to legalize ultimate fighting to help plug the state's budget.
Critic Bob Reilly wants a compromise: no punching when you're down, less elbows.
Paterson wants to increase the cigarette tax, too.
Paterson swore-in Debi Rose.
Fred LeBrun on Paterson: "When it comes to passing his wholly unrealistic ethics agenda, he hasn't a prayer. On fiscal reform, he hasn't a clue."
Black politics in Harlem is not what it used to be.
N.Y.R.A. is giving up information, and Ed Rendell is going to tax companies who "sever" gas from the Marcellus shale deposits in the Southern Tier.
Thomas Farley fights salt.
"The system proposed by the city is complex, with reductions ranging from 10 to 40 percent for 61 classes of packaged foods and 25 classes of restaurant foods."
And pictured above is Gillibrand at an endorsement event for Bill Thompson last year.