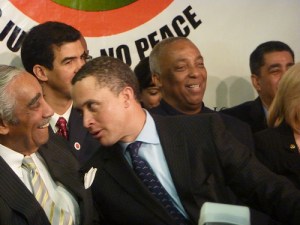 Harold Ford Jr. said his possible Senate race is about "issues," but a pre-requisite to interviewing him is to not talk about issues.
Richard Cohen satirizes Kirsten Gillibrand and Ford for being flip-flops.
Peyser: Ford spoke " like he was born in Harlem." Gillibrand "sounded like a schoolteacher."
Sharpton walked out with Ford, and left Gillibrand on stage by herself.
Gillibrand left Sharpton event and went to Sylvia's.
The Observer-Dispatch notes a geographical slip-up by Gillibrand.
Democrats in Albany and Saratoga meet to discuss Paterson's election problems.
Paterson: "None of us should run away from continuing to work to be a leader, even when times are difficult."
Silver sounds concerned. "He will have to step up his efforts in raising funds in order to show viability as a candidate."
Paterson's budget will include less money for schools, and revenue raisers.
Bill Hammond writes a speech for Paterson.
Long Island is not expecting to like the budget.
Cindy Adams teases the Spitzer book (which the author sent to Spitzer).
Ruth Hassell-Thompson tells Republicans "There's no such thing as a motion to stand at ease. Get your Roberts, and get the hell out of here."
Citizens Union wants to end lulus for City Council members.
Bill de Blasio challenges Bloomberg on homelessness.
The Times picks up Dan Squadron's argument for passing the ethics bill, and calls the legislation a first step.
The mayor of Syracuse fired staffers of her predecessor.
It's front-page news there.
The S.I. district attorney won't investigate Janine Materna's claim against The Advance Group.
Barbara Ross explains Cuomo's problem. "[T]o seek criminal charges, Cuomo has to be able to prove Pedro knowingly, intentionally did this. That's tough."
Liz Krueger's challenger wants to run in a Democratic primary, and later, as a Republican.
The charter school bill has to be passed by 4:30 p.m. today.
The Journal News wants the Race to the Top money.
Bloomberg warns Sharpton on traveling to Haiti.
Dominic Carter will do his 30-day jail sentence.
In Niagra County, public commenters don't want to wait.
Pictured above is Ford getting a word in with Rangel.
And here's video of Gillibrand's scrum with reporters after her MLK event in Harlem, where she says she and Sharpton "have a great relationship."