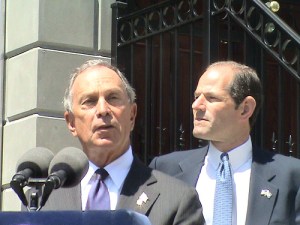 "Bam Blinks" says The Post.
"Bam Blinks" says the Daily News.
The White House will consider other locations for the terrorism trial.
The mayor of Newburgh wants it. "I look at it almost as a tourist attraction."
Orange County doesn't want the trial.
Petee King moves to block the trial from coming to the city.
The Post slams Schumer and Gillibrand for not speaking out against hosting the trial in N.Y.C.
Top Democrats meet in Albany.
Now, the White House will fund 9/11 health care needs.
Bill Clinton endorsed Kirsten Gillibrand.
Eliot Spitzer is not a fan of Gillibrand.
Harold Ford talks to Cindy Adams.
Michael Bloombeg's campaign money wound it's way to a mysterious group called "Special Election Opertaions." "[Howard] Wolfson repeatedly ignored requests since last week for the names of the people behind Special Election Operations."
Andrew Cuomo takes on a major, and controversial, landlord in Queens.
Cuomo got lots of money from the real estate industry.
Bloomberg's budget is "grim."
Bloomberg wants a jet-fuel tax.
Teach layoffs, not good.
Nicole Gelinas is skeptical about Bloomberg's budget.
Clyde Haberman: "OBSCURED in the discussion of layoffs, which the mayor said "appear unavoidable," is the fact that the belts must be tightened now in part because Mr. Bloomberg had greatly loosened them."
Lowering the police headcount is "wrongheaded" says the Post.
A chant from Tea Party protesters: "Silver: Change You Can't Believe In."
A letter to the editor that said "50 people holding torches and pitchforks" would go to Dan Steck's home sent him to the police.
Carolyn McCarthy may get a challenge from Republican Frank Scaturro.
Eric Schneiderman works against "prison-based gerrymandering."
Jeremy Peters has more.
Bill Cunningham on 2013: "If Bill [de Blasio] looks like he is setting up a field operation for a political campaign, John could be the guy the public thinks is doing a good job, and John could rush right past him."
Overtime pays, according to Ken Lovett.
A guy convicted of scamming schools on Long Island is released early. Kathleen Rice opposed the move.
Funding for a high-speed rail is big news in Rochester.
Utica feels snubbed.