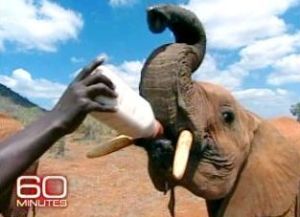 OVER THE YEARS, Bob Simon has reported for CBS News on everything from the Vietnam War to the Iraqi invasion of Kuwait to the Israel-Palestine conflict. This past Sunday on 60 Minutes, Mr. Simon returned to an even heavier subject-elephants.
"Elephants communicate in a complicated, sophisticated language that scientists are trying to decipher and compile into the world's first elephant dictionary," reported Ms. Simon. "When we heard that this is all happening in one of the most magical places on earth … we simply had to go."
For Mr. Simon, elephants are no fleeting interest. Over the years, he has reported a total of five magazine stories about elephants, including dispatches on elephants who paint and elephants who live in an orphanage in Kenya. ("At dawn, the elephants are taken from their dorms out to the bush. They hang out for a while, play some games. Soccer is a favorite.")
"I used to consider myself a Vietnam correspondent," Mr. Simon told The Observer recently. "Then I became a Middle East correspondent. Recently, I seem to have become an elephant correspondent. I don't know exactly why. It's not like I had any profound childhood experience with an elephant. But I've come to love the animals."
The sight of a legendary war correspondent reporting multiple in-depth stories about elephants might be somewhat peculiar if Mr. Simon worked at, say, NBC or ABC. Not so at CBS, which in recent years has arguably distinguished itself as the No. 1 news network in terms of pachyderm coverage. At CBS, elephants matter.
A Lexis-Nexis search reveals that over the past year, The Early Show, The Evening News and CBS Sunday Morning have collectively reported on the rising popularity of elephant polo; the throwing of a "baby" shower for a 2-month-old elephant named Daisy; self-awareness in elephants as a sign of animal intelligence; the opening of a must-see elephant exhibit at the San Diego Zoo; allegations of elephant abuse at the circus; the rescue of a baby elephant from a manhole in Thailand; and on and on. In December, The Early Show staged an experiment in which a 45-year-old elephant named Panya tested out the durability of various luggage brands.
Back in January 2009, CBS correspondent Steve Hartman reported an amazing tale about an elephant named Tarra and a dog named Bela who had become soul mates at a sanctuary outside of Nashville. To date, "The Animal Odd Couple" has been viewed on YouTube some 3,409,873 times. "I knew the story of Bela and Tarra would be big," said Mr. Hartman in a follow-up piece. "I just had no idea how big."
Nearly a year later, elephants continue to be a crowd-pleaser for CBS. On Sunday, Mr. Simon's most recent elephant dispatch (when paired with a story about a Swiss banking whistle-blower and an investigation of the Department of Veteran Affairs) helped 60 Minutes draw 14.84 million viewers, the fourth-highest-rated show on TV for the week.
"This broadcast last Sunday, there were two very serious pieces, and then a piece about elephants," said Mr. Simon. "I think that's a good mix."
fgillette@observer.com