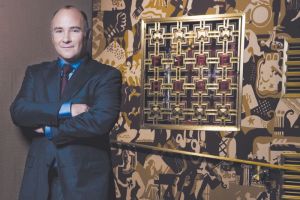 At this point, leaving Condé Nast seemed inevitable for Richard Beckman.
On Tuesday morning, the hard-charging, relentlessly self-promotional and ultimately very successful Condé Nast executive handed in his letter of resignation after 24 years at the company. As the New York Post reported Tuesday, the "Mad Dog" will become the CEO of e5 Global Media, which publishes The Hollywood Reporter, Billboard and AdWeek.
Naturally, there was little love lost around Condé Nast yesterday.
"The reaction? Mostly a shrug," said one insider.
"More like parties in the hallway," said another.
Mr. Beckman had exhausted pretty much any goodwill he had accumulated at Condé Nast. There were the famous temper tantrums, sure, but moody executives have never been frowned upon at the company in the past. It was when Mr. Beckman lost the support of publishers in the building that his career at Condé appeared to begin winding down.
"Richard was incredibly creative and a great executive, but he gave too much credit to himself," said one insider. "It's what undermined him. He took all the credit, and ultimately it didn't help him win many fans and friends internally."
"He was universally despised by the publishers," said another highly placed insider.
When we ran this by Mr. Beckman, he said, "Sorry to hear that. I've spent 24 years of my life in this organization and my track record speaks for itself. I've moved businesses forward and my performance has been exemplary."
Speaking of his performance, several business-side sources noted one moment that seemed to do the bulk of the damage to his reputation: When Mr. Beckman ran the Condé Nast Media Group and served as the company's chief marketing officer, supplements like Fashion Rocks and Movies Rock were created, and nearly every story in the press-including one in the Post this week-mentioned that he brought in 75 to 80 percent of the total ad revenue at the company.
The publishers felt that he planted that number with the press, which didn't sit well with them.
Though technically true, it seemed to exaggerate Mr. Beckman's efforts. While he signed clients to corporate deals, and their ads would run in Condé's magazines, the publishers and sales staffs of the individual magazines did much of the legwork. The number seemed to claim that he himself was solely responsible for 80 percent of the revenue, the complaint goes.
In any event, no one questions that Mr. Beckman was a success, but after the advertising well dried up in 2008, Si Newhouse shut down his supplements and laid off much of his staff.
With little to do at the media group, early last year he was sent off to Fairchild, on Third Avenue, miles away from the Condé Nast effort.
"He became irrelevant," said one source. "What is he running? He's not part of Condé Nast. That's a trade division. He runs a division that includes producing textbooks for fashion students."
"That's where they park you until your contract runs out," the source continued.
At Fairchild, Mr. Beckman had a difficult challenge: He was supposed to turn the division from an operation barely breaking even into something of a money generator. But he wanted to execute his plan in a way that spoke of another era. He recently announced that he would launch a new magazine in the summer, and he wanted the division to throw an awards party.
It all seemed, well, hard to do, and running into interference with Fairchild veterans made the task imposing.
"Richard is working at trade publications now, and he's always wanted to be in Hollywood. He wants a glittery awards show, and to tie it in with a fashion show. Is that really going to work for WWD?"
Mr. Beckman told Mr. Newhouse Tuesday that he'll be out by the end of the week.
So, for now, he swaps one trade division for another-the new just as glitzy as the old, he said.
"What you see right now is a series of trade assets," he said. "We're going to make them important and effective."
jkoblin@observer.com