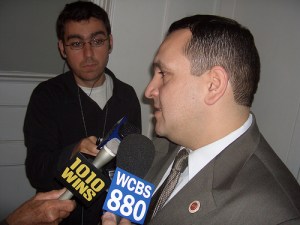 ALBANY—Senator Hiram Monserrate is not, in fact, here.
His appearance was scheduled, as his spokesman told the Daily News this morning, but his other (less official) spokesman and colleague Ruben Diaz Sr. just toe me ta he will not be attending. I didn't see him anywhere in the chamber.
"You will not have the pleasure," he told me.
Monserrate is facing possible expulsion from the State Senate after he was convicted of misdemeanor assault for manhandling his girlfriend.