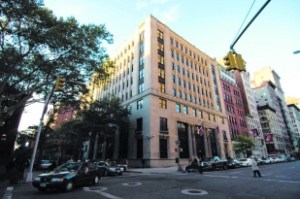 Forbes began a search for a buyer of its historic headquarters at the peak of the market. More than two years and one historic recession later, the magazine company has finished the sale.
On Thursday, Forbes announced that it had sold the 122,500-square-foot, eight-story building at 60 Fifth Avenue to NYU, the school that has itself been looking to grow its own holdings and presence in the city.
The deal ends the magazine's long search for a buyer, which began with very high aspirations for price, but, unfortunately for Forbes, no buyer could be found as prices sunk and sunk. Back in September 2007, the firm's brokers were hoping for $1,000 a foot, or more than $120 million. The price of the deal was not disclosed, though whatever it is, it's surely well below that price.
The Post reported last month that Forbes was close to selling it for just $55 million, a report a Forbes spokesperson denied.
Forbes isn't leaving the building just yet, its home since 1962. The NYU/Forbes announcement said that Forbes would have a five-year lease in the building following the sale.
ebrown@observer.com