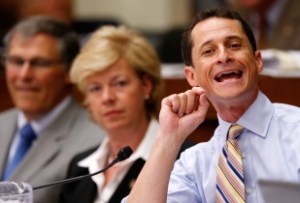 The ongoing spat between Congressman Anthony Weiner, who supports a robust health care reform bill, and Senator Joe Lieberman, who does not, has gotten orthographical.
In a December letter to Senate Majority Leader Harry Reid, which Glenn Thrush got his hands on, Mr. Lieberman wrote:
I fear the people who are advocating the Medicare buy-in are doing so not because they think it will give more help to these Americans than the subsidies and exchanges, but because they see it as a big step toward a single payer system as Congressman Anthony Wiener [sic] and others have explicitly said.
Err, Weiner. That's quite a [sic] to the Queens Congressman, who does not enjoy having his name misspelled.
"Maybe he couldn't spell 'flip-flop' or 'back-stab,' either," Mr. Weiner quipped to Politico.