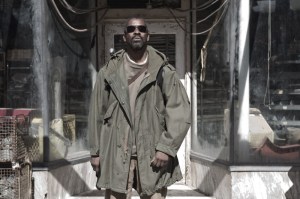 And you thought last weekend was bad! Martin Luther King weekend brings two more craptastic feature films, but since there is nothing else out in theaters—unless you're really itching for another dose of Avatar—they might end up being box office hits (see: Paul Blart: Mall Cop, which came out on this weekend last year). As we do every Friday, here's a handy guide to the new releases.
The Book of Eli
What's the story: Think of this as The Road, but with the potential for an audience. Denzel Washington stars as the titular Eli, a road warrior walking across the scorched earth of post-apocalyptic America with a book that may or may not have something to do with King James. Gary Oldman co-stars as the villain (we can't expect him to play characters like Commissioner Gordon all the time!), meaning the chances for this thing to entertain are fairly great. The Hughes Brothers (Menace II Society) direct for the first time since 2005's From Hell, meaning violence should be expected. And, based on the vague reviews, so should a twist ending that you might not see coming. Add it all together and The Book of Eli could be the Knowing of 2010. Do with that information what you will.
Who should see it: Cormac McCarthy.
The Spy Next Door
What's the story: And think of this as Paul Blart, but without the audience. Or, so we hope. Just a few weeks after Alvin and the Chipmunks: The Squeakquel threatened to ruin the youth of America, here comes Jackie Chan in a movie that looks an awful lot like the Hulk Hogan classic Mr. Nanny (emphasis, of course, on "awful"). Not sure what's more surprising here: that The Spy Next Door exists or that it features Billy Ray Cyrus in a major role. Scary thought: we'd rather see Mr. Chan's ill-advised remake of The Karate Kid fifty times over than sit through this.
Who should see it: Miley Cyrus.
Also opening this weekend: the very delectable Michael Fassbender (at least according to Slate's Dana Stevens) stars in the well-received indie Fish Tank; and, hey, remember The Lovely Bones? Peter Jackson's adaptation of Alice Sebold's novel came out in limited release over a month ago and—after getting universally panned—it finally finds a home in 2,400 theaters this weekend.