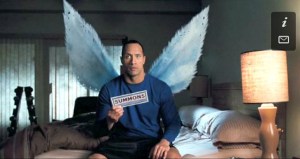 The lack of quality January movies has been well documented, but the three hitting theaters this weekend look so unctuous that they almost feel like a prank. Hollywood can't be serious, right? No wonder Avatar has grossed $700 ka-zillion at the box office: There's nothing else out! As we do every Friday, here's a handy guide to the new releases.
The Tooth Fairy
What's the story: And you thought Alvin and the Chipmunks: The Squeakquel was bad. In his continuing effort to become an A-list movie star, Dwayne Johnson (or The Rock, if you're nasty), dons wings and a tutu to play a minor league hockey player turned tooth fairy—because starring in kids' movies worked out so well for Vin Diesel. The trailer for The Tooth Fairy looks excruciating (yes, that is Billy Crystal!), the reviews have been worse and not even the presence of Ricky Gervais' partner-in-crime, Stephen Merchant, can make us muster the strength to approve of its existence. The only positive here? The Tooth Fairy's tag line: "You can't handle the tooth." Ha!
Who should see it: Vin Diesel.
Legion
What's the story: Let's see if we have this straight: God, so upset with the human race, decides to end the world by sending a legion of angels down from heaven to kill everyone. But the Archangel Michael (Paul Bettany) doesn't agree, especially because he thinks that a young girl (Friday Night Lights vixen Adrianne Palicki) is possibly carrying the second coming of Christ. O.K.! But, wouldn't God realize that, too? We're sure God is busy but we don't think something like the second coming would get overlooked. Anyway, we doubt the plot gaps in Legion will matter much to the fanboys who just want to see an angel carry a machine gun. Also of note, the supporting cast, which features Dennis Quaid, Private Practice's Kate Walsh and Gossip Girl's Willa Holland.
Who should see it: Zuzu Bailey.
Extraordinary Measures
What's the story: If you're like us, you've been mimicking Harrison Ford yelling, "I already work around the clock!" for weeks, so at least the trailer for Extraordinary Measures has done its job. In the end, though, that might be the only thing memorable about this film, which looks like a CBS Movie of the Week most likely because it was produced by CBS Films. Heck, even Leslie Moonves worked on the ending! Harrison Ford and Brendan Fraser star, and while logic dictates that the two adventurers would be teaming up to do battle against some ancient mummy (or aliens whose gift was knowledge), here they're just trying to cure an uncurable disease. Tears will be shed, hope will be restored and lives will be changed. Don't be surprised if this maudlin affair becomes a sleeper hit.
Who should see it: Fans of The Blind Side.