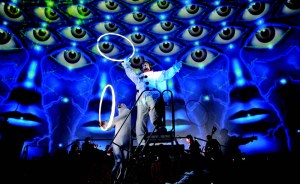 It's hard out there for a small opera company. This is especially true in New York City, where the Metropolitan and City Opera steal almost all of the spotlight. The two companies are cheerfully termed "those big brothers of ours" by Gotham Chamber Opera's Neal Goren, artistic director since the inception of the 10-year-old company, which has earned a devoted following specializing in well-conceived, well-rehearsed productions of the repertoire's smaller works (and whose budget is about 0.3 percent the size of the Met's).
Gotham may be little, but it's putting on one of the most intriguing operas of the spring, a production of Haydn's 1777 comedy Il mondo della luna (The World on the Moon), which will be performed through Jan. 28 at the Hayden Planetarium in the Rose Center for Earth and Space at the American Museum of Natural History. The production, directed by theater and opera veteran Diane Paulus and featuring a cast of young singers, is the first theatrical event to be held in the space famous for its trippy laser-light shows, and Gotham is taking full advantage of the opportunity. The production uses the planetarium's $3.5 million Zeiss Mark IX projector and its library of NASA-produced footage to conjure up the adorably zany central fantasy of the opera, in which two daughters try to get their overprotective father to consent to their marriages by convincing him that he's traveled to—you guessed it!—the moon.
It's an ambitious production—Gotham's most elaborate and expensive ever—especially in a bad economy, and if the decision had been left to Mr. Goren and the company's managing director, David Bennett, it might not have happened at all.
"When we saw how high the budget had to be, it was a huge, daunting proposition," Mr. Goren recently told The Observer. "Last spring, when the economy was at its most problematic for arts organizations, David Bennett and I sat down in despair and said there's no way we can feasibly do this and stay afloat. Great an idea though it is, it's not worth bankrupting the company. So we came up with other alternatives for this season. There were three less expensive options, which we presented to the board at our meeting last spring. To our surprise—and, I must say, horror—the board voted unanimously to go with this production at the planetarium. But they were right; they were absolutely right."
Though that story might produce palpitations in board-wary arts administrators, for Mr. Goren, the experience taught a heartening lesson: "I founded the company on the principle that the only thing worse than no opera was bad opera," he said. "If we cannot raise the money to do it the best we can, better not to do it at all.
"You strive high, people will respond in kind. … To our delight, people have really responded, as have donors—individual donors, foundations, corporations—in ways that they never have before."
However, according to Mr. Goren, even pristine ticket sales would cover only about 20 percent of the costs, so a yearlong delay was added to allow for more fund-raising. But in the end, the money was raised; the situation was aided by a generous co-production deal with the Museum of Natural History, which provided the use of the space and their full-time staff and engineers. Gotham is also supported by the American Repertory Theater in Cambridge, of which Ms. Paulus is artistic director. Indeed, the production owes much of its publicity, and even its existence in its current form, to Ms. Paulus, who received a Tony nomination last year for directing the acclaimed Broadway revival of Hair and who has worked extensively with baroque and classical opera, including a funky and spare production of Monteverdi's Orfeo at BAM in 2002.
"When I was thinking of directors who could do unusual repertoire," said Mr. Goren, "who could think outside the box, Diane seemed like the perfect candidate."
"Neal said, 'We have to find an off-site thing, maybe a soundstage,' and that interested me right away," said Ms. Paulus via telephone. "And then he said, 'Wouldn't it be crazy if we could do this at the planetarium?' And once he put that idea in the ether, there was no going back for me. So he took me to the planetarium and we watched Cosmic Collision—this was maybe two years ago—and afterwards he turns to me and says, 'There's no way you could do an opera in here, right?' And I said, 'Are you kidding? It's perfect!' And that began a journey of how to make this possible."
Ms. Paulus worked with Mr. Goren to cut the opera—which runs well over three hours in its entirety and is wildly uneven in quality—to a 90-minute version that could be performed without an intermission. She also brought on designer Philip Bussmann to design the sets and video projections; the two had worked together in 2008 on an opera based on David Lynch's film Lost Highway for English National Opera. Mr. Bussmann was the one primarily responsible for dealing with the logistical challenges posed by putting on a show in a space that needs to be swiftly cleared after every rehearsal and every performance so that hordes of tourists can take in the regularly programed star show. "It's like setting up the circus in there every night," Ms. Paulus said.
Of course, after the circus comes to town, it makes sense that you might want a little break, and Mr. Goren is planning a low-tech follow-up to Il mondo della luna: a production of Montsalvatge's Puss in Boots directed by Moises Kaufman and featuring the puppetry of London's Blind Summit Theatre, which created a controversial bunraku child for the Met's Madam Butterfly. Gotham will also soon be announcing a new commission, to be performed in 2011, to celebrate the 10th anniversary of its first production.
Undeterred by the economy and by the big dogs at Lincoln Center, Mr. Goren maintains an inclusive vision of operatic New York: "Every company has a niche, and every niche has a company."