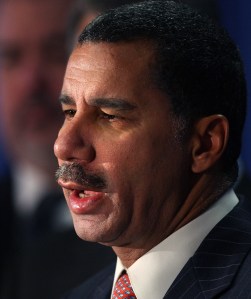 On Don Imus this morning, David Paterson offered his opinion on Harry Reid's controversial "light-skinned" and "negro dialect" remarks—detailed in the buzzing new book Game Change.
"That kind of remark was shocking to me," the governor said. "And what was also shocking to me—look, if the president forgives him, I forgive him; I've met him and he's a fine senator—but how many people saw that remark and didn't stop it before it went to print? Or was this a way the consultants didn't serve the senator and wanted to get attention from his remark, and wound up paying for it? Because in the end, he's not denying that he made it."
Why Mr. Paterson thinks such a remark might help Mr. Reid isn't entirely explained. (Over at Politico, Glenn Thrush said the contrite senate majority leader felt burned by the authors, so presumably, it wasn't a publicity ploy.)
Perhaps not surprisingly, Mr. Imus said he read the whole book, and Mr. Reid's remarks, which are on page 38, didn't jump out at him.
"Had I read those comments, I would have noticed it right away," Mr. Paterson said.