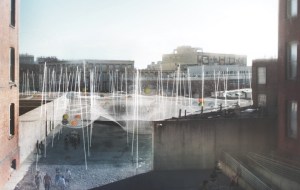 MoMA and P.S. 1 have chosen SO-IL Solid Objects Idenburg Liu, the husband-wife team of Florian Idenburg and Jing Liu, as the winners of this year's Young Architects Program. Plans are being unveiled officially today for their proposed structure, which is called Pole Dance.
Pole Dance consists of narrow fiberglass poles 25 feet high that support a stretchy net at 14 feet. The poles are attached to the ground but still allowed to move, an effect that Idenburg says will "broadcast the activity inside to the city." Writes the Architect's Newspaper:
Idenburg said that such "responsive structures" are actually something he and Liu have been considering a lot lately in [their] work, something they would like to explore in more traditional settings as well. "It's not just about form, it's about the experience of going there, of shaping and affecting the architecture."
The paper says that in its ten years, the Young Architects Program "has become a kingmaker of sorts, attending the rise of such marquee designers as SHoP, Lindy Roy, nARCHITECTS, and Work AC." The competition calls for architects to design a temporary structure for P.S. 1's outdoor space, which then hosts the museum's summertime concert series.
Last year's winner, afterparty, was designed by the New Haven firm MOS as "a series of tall hut-like 'chimneys'" around a conical shelter "similar to a Bedouin tent."