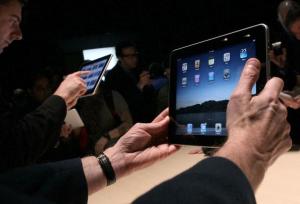 The day after its unveiling, media companies are figuring out how to take advantage of the iPad. Women's Wear Daily summarizes efforts in the magazine world:
Condé Nast Publications will introduce three titles when the iPad makes its debut in March – Vanity Fair, GQ and Wired. During the past few months, Condé Nast has talked openly about its development work for a digital version of Wired and GQ has already launched an iPhone platform; the January GQ app has surpassed more than 14,000 in digital sales. "We are at the start of a company-wide initiative: we see all of our magazines available on this kind of platform eventually," said Sarah Chubb, president of Condé Nast Digital, who was on hand for Apple's introduction in San Francisco.
Time Inc. and Hearst said they were at work on an iPad "presence," but didn't name titles.
In the book world, Random House was conspicuously absent from the major publishers featured in the announcement–but flacks tell Crain's that there's no bad blood:
"Random House welcomes Apple's iPad and iBooks app and we look forward to our continuing conversations with them about how we might best work together," a company spokesman said in a statement.
"Conversations" presumably just came down to the wire: potential partners were "locked in last-minute negotiations Tuesday night."
Meanwhile, the wrath of Steve is swift and merciless: "insiders" are reporting that McGraw Hill got cut out of the iPad announcement after Terry McGraw showed up on CNBC talking about the tablet before the appointed hour of revelation.