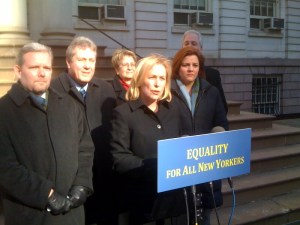 "Can I interrupt first? Sorry," said Council Speaker Christine Quinn as she pushed her way in front of Senator Kirsten Gillibrand on the steps of City Hall this afternoon.
A few minutes earlier, Ms. Quinn had endorsed Senator Gillibrand as "the champion of the LGBT community in our United States Senate." After which, with the senator facing the inevitable question about would-be challenger Harold Ford Jr.'s newly professed support for same-sex marriage, the Council speaker was eager to interject.
"I like converts, let me be clear," said Ms. Quinn, gesticulating in red leather gloves against the frigid cold. "So anybody who was once against gay marriage—don't tell my father that—anyone who was once against gay marriage and now wants to be for gay marriage, I welcome that support and I think everybody in the community does."
But Ms. Quinn said it was "disingenuous" for Mr. Ford to compare his evolution on the issue to that of Senator Chuck Schumer, who also supported civil unions before wholly endorsing same-sex marriage.
Ms. Quinn cited as evidence Mr. Ford's two votes for a constitutional amendment banning same sex marriage, when he was a Tennessee congressman.
"We have in Senator Gillibrand someone who has always supported marriage equality, who would never tamper with the Constitution to take away people's rights," she said. "So, from my perspective, we have the gold standard as it relates to the LGBT community. Why would we look anywhere else? Particularly, unfortunately, to someone who would change the constitution to limit my rights."
Also endorsing Ms. Gillibrand were Assemblywoman Deborah Glick, Suffolk County majority leader Jon Cooper and City Councilmen Daniel Dromm and James Van Bramer. Ms. Gillibrand's camp has been rolling out endorsements in an attempt to discourage a primary challenge from Mr. Ford.
After the event, much of the press decamped for Mr. Ford's appearance in Brooklyn, where the would-be candidate was flanked by Bradley Tusk, the campaign manager for Mayor Bloomberg–who himself is a close ally of Ms. Quinn–evidence, perhaps, of just how a fractious a Ford challenge might be.