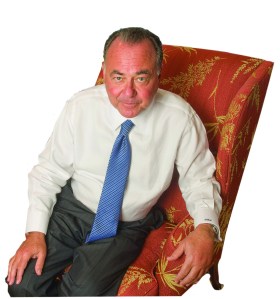 The Fairchild, a 21-unit condo development at 55 Vestry Street, has ushered its fair share of boldface names through its north Tribeca doors—James Gandolfini is an investor, and, according to the New York Post, casual open-house hunters have included mega-couples such as Jessica Alba and husband Cash Warren and Brazilian bombshell Adriana Lima and NBA beau Marko Jaric.
But 2010 seems to have ushered a less glitzy buyer into the building. Has the triangle below Canal Street lost some of its birthright as a bastion of the paparazzi-hunted?
According to a broker with knowledge of the deal, a two-bedroom apartment recently went into contract for $1.75 million, bought by Stephen Siegel, chairman of global brokerage at mega-firm CB Richard Ellis and one of the grand godfathers of real estate dealmaking in New York.
The fact that someone as wizened and savvy as Mr. Siegel is investing in a neighborhood that has come to be regarded as a playpen for those pretending to avoid Us Weekly coverage must mean something.
Mr. Siegel emailed The Observer that he had been looking at apartments with a family member who "did an exhaustive search and knows about every finish and quality (or lack of it) at every apartment he looked at. He found this [the Fairchild] to be of the highest quality, from the finishes to the space, the kitchen and the overall detail, not to forget the lobby and the location."
The Siegels, who were represented by Douglas Elliman broker Oren Alexander, may be very discerning in their residential tastes, but it isn't hard to imagine why this glossy Tribeca development caught their eye. The "exclusive collection of 21 townhomes, penthouses and lofts" is built in the "quintessential architecture of Tribeca," according to the project's Web site. The apartments "offer an urban paradox where luxury living mingles with an industrial soul"—which can be translated thusly: custom-designed Poggenpohl gourmet kitchens and complimentary gym and spa memberships at the Greenwich Hotel set against a backdrop of a "traditional warm brick facade with oversized arched windows" that reflect the "industrial age of 19th century New York."