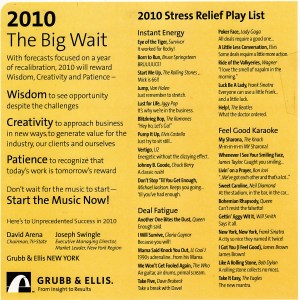 Real Estate Board of New York President Steven Spinola escorted Governor David Paterson through the cocktail reception before REBNY's 114th annual banquet on Thursday evening at the Midtown Hilton. "This is Sandy Lindenbaum," Mr. Spinola said, introducing the governor to the legendary real estate lawyer (interviewed in November by The Commercial Observer). "He's one of our honorees tonight."
"Oh, congratulations," the governor said. Mr. Lindenbaum nodded and was on his way as were Messrs. Paterson and Spinola, deeper into an evening that came off feeling that way: passing through.
Thursday's banquet, perhaps as a result of the lingering recession and of the expectation that commercial real estate in particular may be in for another brutal year in 2010, was a tad more subdued than ones in the past. Even last January's, coming as it did only a few months after Lehman Brothers' collapse, was busier, louder and lasted longer. This year, Mayor Bloomberg was in and out for photo ops in seemingly record time, and the lines at the coat check pickup were four deep before 10 p.m.
Over 200 tables dotted the ballroom floor leading up to the dais at the main banquet like subdued whirling dervishes. Though last year the gala garnered 2,300 attendees, this year presented a sparser crowd. Typically relegated to the mezzanine, this year, the press joined the other half—the paying customers, as it were—on the ground level, manning the back of the room like gossip-hungry sentries, evidence of this year's more intimate guest list.
The ballroom was a veritable Big Apple Circus with Mr. Spinola, REBNY president since the Koch administration, the exhausted ringmaster. Like prom with facelifts—no wait, that's the Oscars—the ballroom swelled with the incessant prattle of REBNY guests with little regard for Mr. Spinola's almost equally incessant shooshings as he struggled through the six honorees seated behind him on the large dais at the head of the room. This year's REBNY honorees included the aforementioned Mr. Lindenbaum; Robert Knakal of Massey Knakal Realty (and Commercial Observer columnist!); young buck Todd Korren of Swig Equities; Paramount Group's Ralph DiRuggiero; David Greenbaum of Vornado Realty, who received the Lifetime Leadership Award; and Warburg's Frederick Peters, who took home the top humanitarian honor.
Glittering in a sort of dented, disco-ball way the ballroom suffocated under a medley of mixed-attire guests. Guests ranged from commercial real estate honchos in traditional tuxes, or the more prevalent black jacket and tie combo, to brokers and publicists spanning the fashion gamut from clingy floor-length silk-rayon gowns that left little to the imagination, to sharply cut black gabardine shift dresses. Almost as if as part of the circus trick, REBNY sent invitations to one group that designated attire appropriate for the MGM Grand in Las Vegas and to another the Palais Garnier in Paris.
Another circus trick? Apparently charging for booze. In years past, even dismal 2009, beer and wine flowed with a Dionysian vigor, but this year, during the meal, guests were required to put down credit cards before a bottle of wine was brought to their table—though, to be fair, during the pre-banquet reception, the hooch flowed for free. Also, according to a REBNY spokesperson contacted on Friday, wine and beer were supposed to have been served at each table; however, according to at least two waiters, guests were to be charged for any booze, and gray drinks menus, complete with prices, adorned nearly every table on the floor, even near the dais. One TV reporter was, in fact, charged $6.85 for a 12-ounce Coke.
The only sure-free thing served at dinner was the brisket-like stump of coal masquerading as filet mignon and an odd gelatinous stress-ball placed next to each setting's wine glass, REBNY's version of a goody bag and courtesy of brokerage Grubb & Ellis (more stress relief advice from the brokerage in the image above; this paper was left at each table). Hovering near a table before dinner, two middle-aged tailless penguins picked up the stress balls with confusion.
"Wait, what is this, dessert?"
"It feels like Jello. No, I don't think it's edible."
"What do you do with it?"
"I just don't know."
cmalle@observer.com, tacitelli@observer.com