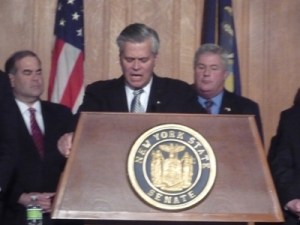 ALBANY—David Paterson–Republican hero?
"It seems to me that there's a question of conscience that's bothering him, and that's whether all of the taxes and fees that he's supported not just in last year's budget, but also when he was a senator in the minority," Senate Republican Leader Dean Skelos said in a press conference after his formal response to Paterson's State of the State speech aired on TV. "I hope that this has been a conversion."
Skelos was joined by Assembly Minority Leader Brian Kolb as well as Ed Cox, chairman of the Republican State Committee.
"What he delivered with respect to the budget was a Republican message," Cox said.
During the speech, I noticed more Republicans applauding than Democrats, and doing so with greater frequency. Paterson gave a very prominent shout-out to Governor George Pataki, the last Republican to hold that office. Glenn Blain noticed this too, and asked Skelos if he thought Democrats were disrespectful to the governor by not clapping.
"Whether you agree with the governor or not, he is the governor and you should respect that," Skelos replied. "I think the governor has, as obviously the Democrat Party especially in the senate, are particularly troubled as to his polling numbers and what President Obama tried to do, in terms of really bullying him out."
"They didn't quite cross the line in terms of disrespect, but he was talking more like a Republican, so I can understand," Skelos said.
I asked Cox if he would entertain Paterson for the Republican nomination. He and everyone else laughed, before he noted there are "other great candidates."