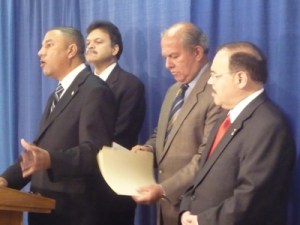 ALBANY—At an anti-endorsement of Steve Levy, the Suffolk County executive who announced this weekend he is exploring a run for governor, several Hispanic elected officials threatened to boycott anyone who supports him.
"We will be monitoring those campaign contributions," Assemblyman Peter Rivera, a Bronx Democrat said at the press conference. "We will be putting out a list of organizations and corporations that are supporting Steve Levy, and asking everybody that is within our voice and within our listening, our written word to boycott those individuals and to remind hose individuals that are supporting Steve Levy that they are doing something against the Hispanic community in the State of New York."
"It particularly applies to political donations," Rivera added.
"We're going to take a lesson from the Cuban guys from Miami and what we're prepared to do is to exercise that economic potential that we have here as well as the political one in our voting," said Assemblyman Phil Ramos, a Brentwood Democrat.
This goes further than what the men told me yesterday, when Ramos called Levy "the George Wallace of New York." In a release announcing the press conference, Rivera and Ramos said "Hispanic lawmakers will announce that any supporters of Steve Levy will be considered persona non grata on issues decided by state level lawmakers."
I found Levy after he appeared on Fred Dicker's radio show, and he shot back at Rivera and Ramos.
"They basically were saying, if you were an agency getting money from the state, or seeking money from the state, and you support someone we have a political difference with, we will cut you off," he said. "That is the most arrogant abuse of power that I have seen in 23 years, and that's saying something when it's coming from this cesspool of corruption here in Albany. Someone has to come here with an ax and chop down this tree of corruption. And what's most ironic, is that on the same day that the governor is talking about improving ethics in this political cesspool, we have two assemblymen violating public officers law in threatening residents of New York State who support their political opposition."