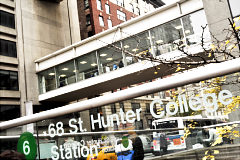 Another quiet week on NYU and Columbia's campuses, as students remember Martin Luther King and savor the end of their extremely long winter breaks. But there's news from the world of public universities.
Governor Paterson has recommended that the CUNY and SUNY systems set their own tuitions, separate from the state's budgeting process. According to The Chronicle of Higher Education:
The public universities would also be allowed greater flexibility to set different tuition rates for different programs and on different campuses within the systems.

In exchange for that increased authority, trustees of the State and City Universities would be able to raise tuition by only 2.5 times the five-year average rate of the Higher Education Price Index, a widely used measure of colleges' inflation costs.
It remains to be seen whether legislators will go for it–a similar bill that applied only to SUNY-Buffalo passed the state Senate last year, only to stall in the Assembly.
The Princeton Review has named Hunter College the second "best value" among public colleges nationally, behind only the University of Virginia. The Daily News says that students "agreed with the high ranking." Tuition this year was $4,600 (!), even after a $600 "hike" from last year's price.
And a survey by The Chronicle tabulated salaries for the leaders of public universities:
On the whole, executive pay continued to rise in 2008-9-but at a much slower pace than in recent years. The median total compensation last year for chief executives at the public institutions included in the survey was $436,111-a 2.3-percent increase over 2007-8. Last year pay rose 7.6 percent.
The Times writes up the findings, but gives them a cheery spin.
"Pay Rises," according to The Times headline. "Pay Stagnates," according to The Chronicle.
The site very small array, meanwhile, has mapped the streets of Park Slope based on the college stickers in car rear windows. Brown and Reed: predictable neighbors. Weirder? Smith and FIT.