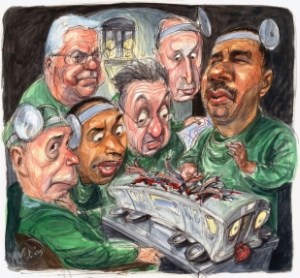 Lee Sander is back in the advocacy world.
Executive director of the M.T.A. between 2007 and mid-2009, Mr. Sander Thursday was elected chairman of the Regional Plan Association, the prominent advocacy organization that pushes for greater transit investment and rational urban planning.
Mr. Sander, pushed from his M.T.A. job amid a restructuring by Governor Paterson, with whom he never had a close relationship (Governor Spitzer appointed Mr. Sander), used to work closely with RPA. Mr. Sander, now an executive at AECOM, was co-founder of the Empire State Transportation Alliance, along with RPA president Bob Yaro.
RPA's board is a collection of planners, architects and former government officials. Among others: Paul Francis, Mr. Spitzer's chief of operations; Pat Foye, former chairman of the Empire State Development Corp. under Mr. Spitzer; and Charlie Maikish, head of the Lower Manhattan Construction and Command Center.