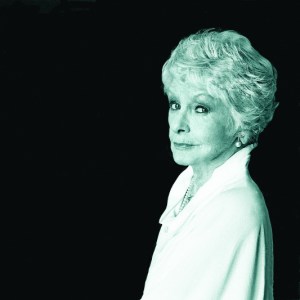 Brilliant. Impossible. Eccentric. Temperamental. Fabulous. Iconoclastic. Legendary. The adjectives go on and on when describing Elaine Stritch, but "austere" is not one of them. This is all the more reason why her new cabaret show at the Carlyle is so wonderful. It's a rare opportunity to see and hear a unique personality with a special brand of musical alchemy being pensive, introspective and mesmerizing.
She calls the show Elaine Stritch Singin' Sondheim … One Song at a Time, which at first sounds kind of silly. I mean, when you tackle one hour of songs by Stephen Sondheim or anybody else, you do sing them one at a time, don't you? But from the opening zest of "I Feel Pretty," I decided what she really means is "one mood at a time." Every number is different, arranged by the great Jonathan Tunick to reveal a contrast in flavor, feeling and rumination. With her brittle, shoulder-shrug style and often acerbic attitude toward lyrics, she is the perfect interpreter of Mr. Sondheim's often cynical lens on life. No wonder she's slim as celery. This is a workout, and what fun it is to accompany her to the gym. Happy, gay, dyspeptic or downright suicidal, she interprets the moods like nobody else. Yes, baby, she has lived and the experience comes in handy.
Mr. Sondheim's songs were once considered too intricate and rangy for most singers to tackle. Now everybody's singing them all the time. You can hardly enter a cabaret room anymore without some 15-year-old with a ponytail singing "Send in the Clowns." Ms. Stritch has no range at all, but emotional complexity has never deterred her. She has about three strong notes left, but she knows how to use them. When she turns "Rose's Turn" from Gypsy into a passionate, neurotic breakdown, you don't need the rest of the play to understand the frustration of a backstage mother who has always lived in the spillover from her children's follow spot. She hammers out the notes and the ringsiders go mad with ecstasy. With even the most familiar material, like "Send in the Clowns," she makes it all sound like you're hearing it for the first time. I thought I couldn't bear to hear the lugubrious "Send in the Clowns" one more time, but as it turns out, I had never heard it before. She breaks up every eight bars like an acting exercise at the Actors Studio, never losing track of the content of the song. Maybe, as she infers, Sondheim is like humor—unmanageable. But like Madame Curie finding radium after years of research, Ms. Stritch finds the key to the secret formula that unlocks the subtext of every song—the light touch of whimsy in "Love is in the Air" that makes joy contagious; the lifetime of relationship changes in "The Little Things You Do Together"; the surprisingly slow psychological motivation in "Broadway Baby"; the a cappella reading of the gimlet-eyed lyrics in "Every Day a Little Death," which find poetry in disillusionment. Boy, it takes guts to pull off a poetry reading on a cabaret stage while everyone around you is still digesting the crème brûlée. But Ms. Stritch is as fearless as she is visionary. You gotta love this kind of Florence Nightingale courage. She never imitates anybody, including herself. Even her signature song from Company, "The Ladies Who Lunch," is different from any version she's ever done. "A Parade in Town," Angela Lansbury's showstopper from Anyone Can Whistle, turns from a lady mayor's lament to an obituary for all the people life has passed by. Bringing Sondheim up to date, she brings "You Are the Best Thing That Ever Happened to Me" (from Road Show) close to ecstatic fulfillment before adding that little extra lemon twist: ("O.K., one of the best things that has ever happened to me"). Subjugating her rugged, full-frontal, no-nonsense persona in favor of a more reflective approach, she leavens the overriding toughness with vulnerability, a slight hint of insecurity and a determination to get it right and get it special—very appealing qualities in a woman of almost 85, if you ask me. Most of today's singers emerge like raw dough, desperate to be kneaded into some recognizable shape. Ms. Stritch arrives fully baked in her own loaf pan. There is nobody quite like her and never will be. She closes on Jan. 30. My advice is get there fast and learn something.